The frontrunner cryptocurrency Bitcoin has been keeping investors in a state of uncertainty and fear for a while now. After attaining its all-time high back in November 2021, the cryptocurrency had a massive crash bringing it down by more than 70%. While a huge chunk of the community initially called this out as a healthy correction, things have been looking rather bleak currently. This article will be a BTC price prediction and will look at current developments with respect to price action. 
While there have been speculations of the industry recovering soon and getting back on its feet, there has still been evident bleeding in Bitcoin, which influences the entirety of the crypto market right now. There are several factors that are at play, determining where the price may be moving next. However, BTC has surely managed to shake up the price action itself, along with almost every other altcoin, causing the cryptocurrency industry to plunge down to around $780 billion in value. 
Such erratic movements may seem common for BTC at this point. But like every other instance, there have been certain catalysts that have made this market scenario a reality. 
Recent Developments Affecting The Price of Bitcoin
Fear surrounding the next move of cryptocurrencies is something that investors had been gripping to, for a while now. Surely, this isn't limited to the blockchain sector. Almost every global market has been affected by the macroeconomic crises being faced today by various nations. 
The S&P500, NASDAQ and DOW Jones have all been exposed to a decent amount of red, and have been on track to recover. While the fact that every global market has been suffering does make sense, it is only true to state that the industry to have been hit the hardest is the blockchain sector. 
As mentioned above, some incidents recently have turned out to be catalysts in this current dip. The most significant of these is undoubtedly FTX's announcement of bankruptcy. The former third-largest cryptocurrency exchange in the world has been in the news for a while now, owing to a series of events that have shaken the entire cryptocurrency sector to its core. 
The organization led by Sam Bankman Fried had been under scrutiny from certain crypto influencers and popular individuals for while. But it was on November 2nd when a report that stated Alameda Research's heavy dependency on FTX's native token FTT came to light. This activated a stream of criticism and withdrawals from the exchange. Before actions could be taken, the exchange had officially gone under, and Sam Bankman Fried announced bankruptcy. Read this article to know more about what exactly happened with the FTX exchange. 
Being an exchange that catered to over 1 million users worldwide, the collapse of FTX triggered a domino effect, which spread to other cryptocurrencies, especially BTC. 
BTC Price Prediction- Where to next?
At the time of writing, BTC has dipped below $16,000 and is trading in the $15,800 range. The effect of recent developments in the market has caused prices to drop at a quick pace, forcing investors to pull out funds, at least momentarily. But the price of BTC could very well be looking for an upward movement.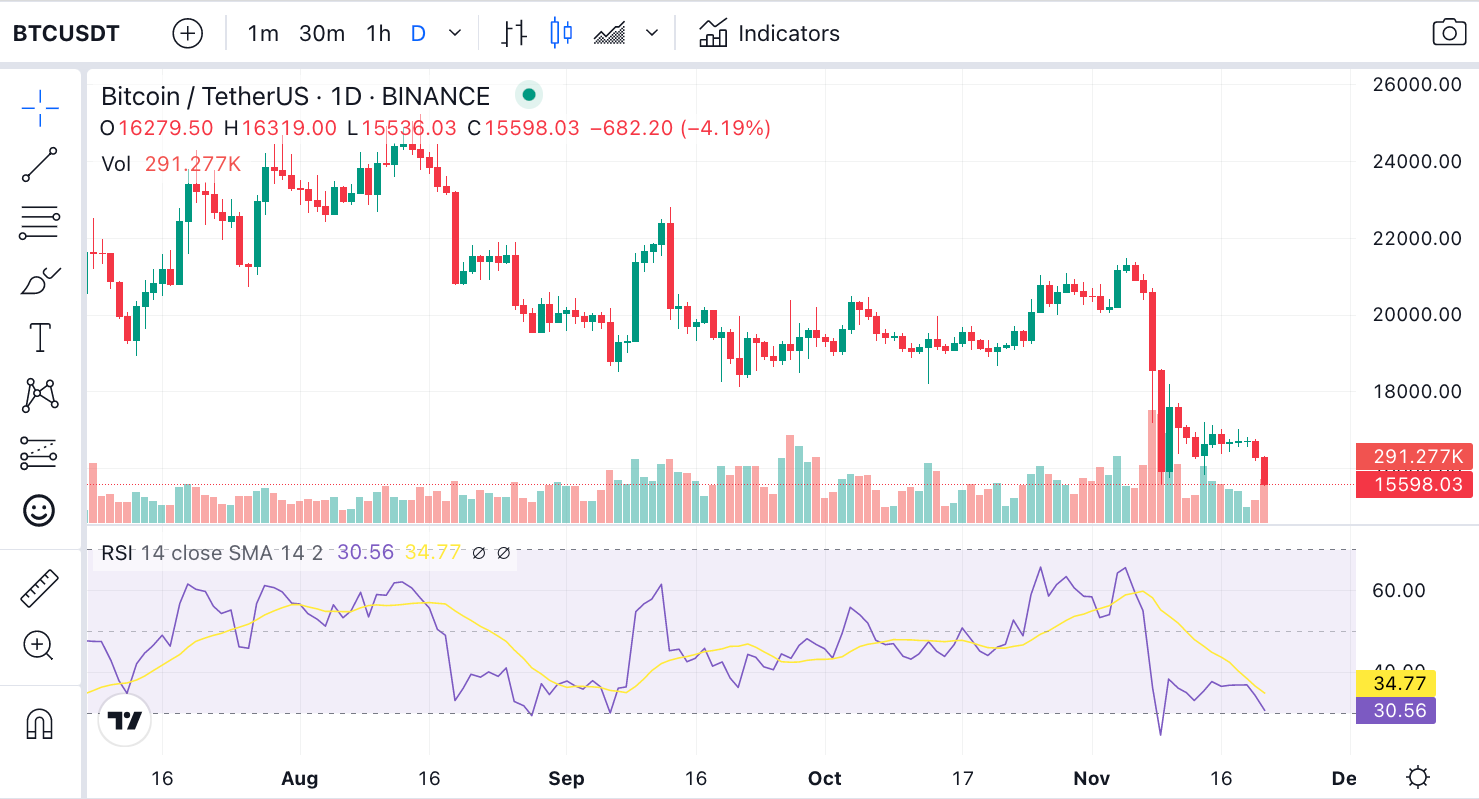 The RSI indicates BTC to be severely oversold at the moment, which could be a figure to consider. The chances of BTC pushing back up become more realistic as the recent dump could be routed back to only one incident that was mentioned above. Infact, there may be an increase in volume activity at least, since the Football World Cup could contribute towards some movement in the industry. 
On a shorter frame, BTC has been testing the $15,800 level for the third time. In case of a breakout on the downside, there may be further blood to be shed in the market, as the crypto may be looking at more downward movement in the upcoming days. A failure to do so may take BTC to its previous level, which may provide some relief to its investors. 
But Can BTC Pump Again?
BTC's movement at the time cannot be speculated accurately since it is taking a volatile route. But if the FTX debacle does subside in the engagement at the least, then Christmas, new year, and such festivities could help the industry breathe better. Ironically, it also holds a chance of further selloff, since investors have historically taken out funds during major celebrations. 
So What Can An Investor Do?
The best option for an investor right now would be to try and accumulate as many high-potential projects as they can find. Presales could provide a perfect opportunity to do this, as prices will not be affected till launch. There are some projects that have already been performing well and are likely to shoot up in value as soon as they launch. Two of the most popular ones are-
Dash 2 Trade (D2T) – This project has already managed to raise more than $6.7 million and is being hailed as the best crypto analytics platform to be launched this year

Calvaria (RIA) – With a P2E NFT card game format, Calvaria is amassing a huge audience and its presale seems to be going without a hitch despite the market conditions. More than 111 million RIA tokens have been sold already, which amounts to over $1.8 million.


These two projects come at a time when investors will be looking for newer and cheaper projects to cash in big in the upcoming months. As they are fundamentally strong, it is very likely that the current demand around these projects will only increase eventually. This means that even as BTC seems to be under duress, projects like Dash 2 Trade, and Calvaria may have room for growth. 
Another choice would be to invest in up-and-coming meme-based tokens with real utility. Tamadoge and Tora Inu are excellent examples of the same. With an ever-increasing demand even now, this category of projects could be a good buy, especially as long as they feature a fundamentally strong product. TAMA and TORA manage to do this successfully, making them ideal choices. 
Conclusion
Bitcoin's current price action may be rather volatile, but still remains to be on the bearish side. While it may be a great idea to park one's funds in presale projects or undervalued tokens at the time, due diligence must be an important factor to consider and do. 
Read More:
Dash 2 Trade – High Potential Presale
Active Presale Live Now – dash2trade.com
Native Token of Crypto Signals Ecosystem
KYC Verified & Audited