The metaverse, the moniker given to a future, more immersive internet vision with potential real-world connections, is viewed as a tremendous opportunity by IT firms. As implied by its redesign, Facebook parent company Meta has staked a significant amount on the opportunity, and as Microsoft gains traction in the industry, it has collaborated with Meta and tried to acquire a significant game publisher.
How about Apple?
The manufacturer of the iPhone and Mac is renowned for innovative hardware and software designs. It even incorporates its "Think Different" concept into its marketing. Apple might once more blaze its own trail as the metaverse takes shape through new hardware and online worlds, some of which will be developed using Web3 interoperable technology like NFTs.
According to rumors, Apple will launch its foray into the metaverse with a pricy headset that connects real-world activities with digitally improved virtual ones. And it's expected to be made public this spring.
Can Apple, as it has done with so many other devices in the past, make the metaverse mainstream? Here is what we currently know.
What is Apple working on?
Tech media has been following Apple's augmented reality (AR) plans for years as the company has purportedly been making progress in that regard since 2015. According to the most recent sources, Apple intends to launch with a premium mixed reality headset that supports both virtual reality (VR) and augmented reality (AR), with plans to release further AR-specific hardware in the future.
According to Bloomberg, Apple's first headset is anticipated to be unveiled this spring, ahead of the company's yearly WWDC conference in June, and to be made available to the general public later that year. Based on past trademark applications thought to be connected to Apple, it is assumed to be dubbed the Reality Pro. Although renowned Apple analyst Ming-Chi Kuo has estimated a price in the $2,000–$2,500 range, the headset may retail for as much as $3,000.
It would cost significantly more than Meta's new Quest Pro mixed reality headset, which retails for $1,500, in any scenario. However, Meta's headset provides a peek of the experiences that could be had with a mixed reality headset—which could overlay digital content on top of a user's full-color vision of the actual world—and the more lifelike interactions that could be made possible by the technology.
On the one hand, it's a VR headgear with all the bells and whistles that can access online social networks (like Meta's own Horizon Worlds) and engage in immersive gaming. On the other hand, mixed reality capabilities can be utilized for creating art and music with digital tools and real-world collaborators while simultaneously interacting with digital screens and models.
An outward-facing screen is purportedly able to display a picture of the user's eyes from within the headset thanks to internal cameras, while the inside Micro OLED panels (one for each eye) are anticipated to produce a combined image at a hyper-detailed 8K resolution. According to The Information, Apple's Reality Pro headset could couple to a waist-mounted power pack to prevent it from being too cumbersome and bulky. It is anticipated to resemble ski goggles.
A larger variety of cameras and sensors, including ones that can precisely reproduce users' leg movements, which Meta is currently figuring out, would reportedly be included in Apple's initial headset. It will also reportedly use a potent M2 CPU from the company's Macs.
According to The Information, retina scanners will make biometric security possible for logging in, making payments, and other purposes.
Other potential features cited in publications include personalized, snap-on prescription lenses for glasses users and motorized lenses that automatically adjust to the wearer's eyes. However, Apple has not yet confirmed anything, and some rumored features might not be included in the initial model (or even later ones).
How does the metaverse fare?
There won't just be VR and AR headsets for the metaverse. Early Web3 metaverse games and applications are now available for use on PCs and mobile devices, and this trend is likely to continue as more metaverse platforms emerge and converge, resulting in a more immersive, experiential internet at scale.
However, many people believe that the greatest method to experience metaverse worlds will be through mixed reality headsets, which are seen as an important step towards that future. Since these headsets can enhance immersion and more accurately capture wearers' subtle movements and interactions while maintaining a connection to the real world, they may offer the best of both worlds.
But such hardware is meaningless without attractive software, and Apple is well aware of the importance of a successful union between the two. According to Bloomberg, Apple is purportedly working on an operating system called RealityOS (or potentially xrOS), which will include interactive versions of popular apps like FaceTime and Maps, as well as ways to watch videos, play games, and collaborate with other wearers.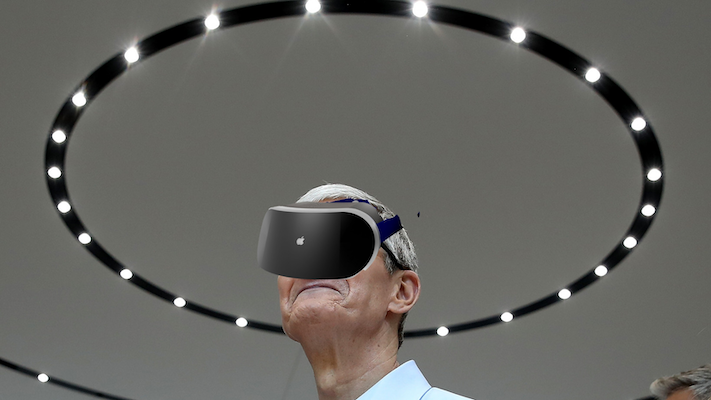 It remains to be seen whether Apple's plans for immersive online interactions and mixed reality experiences match those of other developers, but it is extremely probable that Apple will not use the trendy "metaverse" word itself. Apple constantly employs its own own branding, and CEO Tim Cook claims he doesn't like the term.
Cook stated to Dutch publication Bright in September,
I always think it's crucial that people understand what something is. And I'm not sure if the typical individual could define the metaverse.
Cook, though, is upbeat about the potential applications of augmented and mixed reality technology, telling the journal,
I think AR is a fundamental technology that will influence everything. Imagine being able to educate and demonstrate concepts using augmented reality all of a sudden. for example, medically. We will, as I already stated, reflect on our past and consider how we once survived without AR.
Interoperability and Web3
Web3 proponents envision a metaverse that is dispersed over interoperable platforms that users may switch between and still use all of their digital assets, is based on open-source blockchain technology, and employs NFTs to symbolize ownership of digital assets.
Due to this, there has been concern over centralized tech corporations attempting to stomp in and guide the development of the internet in a manner that they can manage. It's interesting to note that Meta CEO Mark Zuckerberg stated that the company will collaborate with builders from all around the world because he thinks an "open, interoperable" metaverse is "better for everyone."
Even though that isn't a direct endorsement of Web3 technology or a declaration that Meta will create a completely open metaverse platform, it is a more tolerant tone than many have come to anticipate from the business in the past.
Will Apple adopt this strategy and create its own metaverse experiences and applications?
History indicates the opposite. With its tightly controlled iOS platform and App Store business model, which takes a considerable portion of developers' app and content revenues, Apple is perhaps the largest provider of "walled garden" closed environments.
Competitors like Fortnite creator Epic Games have been enraged by this and are suing Apple and Google in an effort to open up their app ecosystems. Tim Sweeney, the CEO of Epic Games, stated that "no firm can own" the metaverse in November 2021, that the company is actively making progress there despite eschewing Web3 technology.
Recent data also points to Apple's reluctance to allow Web3 technology to upend its enormously successful economic model. Apple permits App Store developers to sell NFTs via their iOS apps, but retains a 30% share of all purchases, which is significantly higher than any other major NFT marketplace. Many current Web3 distribution schemes are put to a significant challenge by this.
Apple isn't always opposed to crypto, though. iOS apps from numerous well-known cryptocurrency exchanges and wallet providers enable customers to use their iPhones to spend their cryptocurrency. Cook has previously stated that Apple is "looking into" cryptocurrencies, as well as that he owns them and has been curious about them "for a time." Apple has also posted job vacancies that require prior cryptocurrency experience.
Additionally, in an effort to meet with forthcoming European Union (EU) laws, Bloomberg reported in December 2022 that Apple plans to permit iPhone and iPad users to install software from external, third-party sources. This might only apply to EU nations and other nations with comparable laws, but it indicates a shift in consumer preferences for Apple goods that could ultimately affect its headset goals.
All of this adds up to a fairly hazy picture of Apple's embrace of an open, Web3-centric metaverse. Apple might decide to construct the metaverse independently from the rest of the market, but it's not obvious if that strategy will continue to pay off as Web3 penetration increases and open platforms gain popularity.
At least Zuckerberg is certain that Apple is attempting to enter the metaverse on its own. According to a transcript obtained by The Verge, the CEO of Meta stated that it and Apple are engaged in a "really profound, philosophical competition about what way the internet should go in" in answer to a query from an employee in July 2022.
Related
FightOut (FGHT) – Move to Earn in the Metaverse
CertiK audited & CoinSniper KYC Verified
Early Stage Presale Live Now
Earn Free Crypto & Meet Fitness Goals
LBank Labs Project
Partnered with Transak, Block Media
Staking Rewards & Bonuses