Bitcoin Cash is among the losing coins today, with a decline of over 2% in 24 hours price. But it has recorded a 6.1% gain over the past seven days.
Today the broader cryptocurrency market is down, with many crypto asset prices in a bearish zone over the past 24 hours. Even the top two cryptocurrencies, Ethereum and Bitcoin, have lost some percentages from their past-day price. However, at press time, most coins are recording hourly gains.
With the 6.1% 7-day price increase, Bitcoin Cash (BCH) is outperforming the global cryptocurrency market, which has reduced by 2.00% over the past seven days. BCH is also outperforming similar cryptocurrencies, which have not recorded any significant change over the past 24 hours. 
The following Bitcoin Cash technical analysis and price trend could hint at the possible BCH price actions to expect in the coming weeks. 
Bitcoin Cash Historical Price Action
As of August 2, 2017, Bitcoin Cash traded at $398.84 and later rose to nearly $700 in the same month. It traded at an all-time high price of $3,785.82 in December 2017 before correcting its current price. The coin has experienced its share of volatility and price devaluation since it entered the crypto market.
On January 1, BCH traded at $96.60 but rose above $100 after some price rallies. Despite the recent downturn, the coin has not corrected below $100. BCH is trading at $136.99, as per data from CoinGecko. 
Bitcoin Cash is 77.84% higher than its all-time low of $76.93 recorded on December 16, 2018, and 96.39% lower than its all-time high.
Bitcoin Cash in 2023 has enjoyed positive price momentum. It started the year at $96.96 on January 1 and traded at $136.29 by February 1, with some slight fluctuations in this period.
Bitcoin Cash Technical Analysis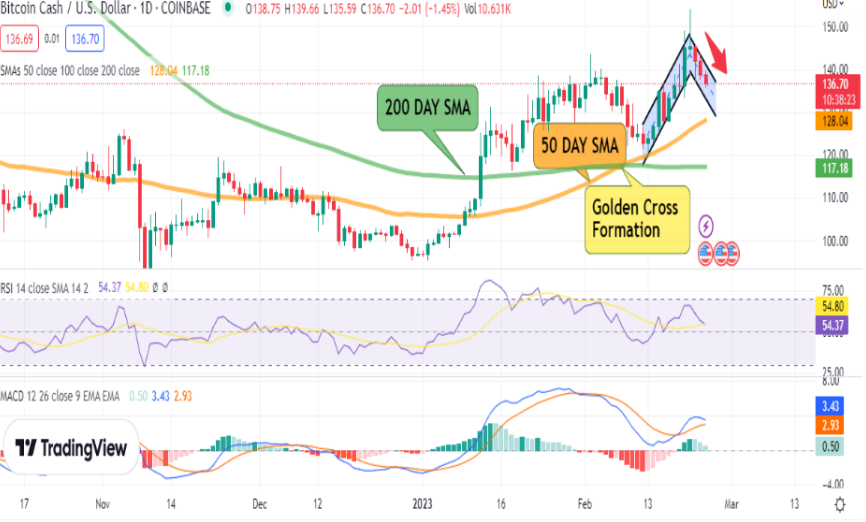 BCH has traded in the red for three consecutive days on the daily charts. It rallied from February 13 to February 21 before entering into a downtrend. The Relative Strength Index (RSI) reflects neutrality at 54.08. Also, the RSI indicator points downwards, reflecting the bearish pressure on the asset.
BCH's Moving average Convergence/Divergence (MACD) is above its signal line but shows a weak bullish signal as it moves downwards. It might likely go below its signal line soon if the bears persist.
However, Bitcoin Cash trades above its Simple Moving Averages (SMA's). The 50-day SMA crossed over the 200-day SMA, forming a golden cross earlier on the daily charts, but the bears have reversed the price gains. The SMAs are giving off bullish signals, with the 50-day SMA pointing upwards and indicating a short-term price increase.
BCH's support levels are $131.01, $134.41, and $136.69; resistance levels are $142.37, $145.77, and $148.05. It is currently trading at $136.65,  below the $136.69 level. The coin will likely descend to the $134.41 support in the coming days before it rallies again based on past price behavior. However, it might attain the $150 price level in the second half of 2023 if it sustains its price gains.
Long-term BCH Price Prediction
BCH Price Prediction 2023
Bitcoin Cash has also benefitted from the general revival of the crypto market in 2023. As a result, the asset will likely record a significant increase in the second half of 2023 to trade at $204.49. However, a gradual rather than sudden rise is likely as it slowly consolidates its gains.
Also, some market pullbacks might occur, pushing it to a minimum value of $163.50 and an average value of $190.01. This price increase will result from increased mainstream adoption and partnerships with reputable organizations.
BCH Price prediction 2025
As long as there is no bear market in 2025, Bitcoin Cash will continue to increase in value. If the bullish cycle persists, it could reach $478.02, which is way off its all-time high value. However, if there is a decline, it could remain in the $150 – $250 price range.
BCH will likely trade at an average of $435.40 in 2025 and a low of $399.15 in 2025. However, external factors like inflation might change the value of these figures.
Note that cryptocurrencies are volatile and carry significant risks for investors and traders. Therefore, proper risk management techniques and sound technical analysis are essential for the best results.
What is Bitcoin Cash (BCH)?
Bitcoin Cash emanated as a fork of Bitcoin when the chain split in two in November 2018. A disagreement among some groups of Bitcoin developers, who were displeased with Bitcoin's overall scalability, birthed BCH. Although Bitcoin Cash is a fork of Bitcoin, both networks are not interoperable. 
Bitcoin Cash is faster and more cost-efficient than the old Bitcoin network. It is a peer-to-peer digital cash system committed to creating more efficient transactions. It is also decentralized and regarded as one of the best alternatives to Bitcoin.
Bitcoin Cash had a block size of 32MB as of October 2021, more significant than Bitcoin's block size of 1 MB. BCH has enjoyed increased adoption by users due to its utility and innovation. In addition, the low cost of transactions makes it an efficient and faster option than the traditional payment channels.
It uses the Proof-of-Work mechanism, and the network is secured by miners validating transactions on the blockchain. BCH has its maximum supply of tokens capped at 21 million BCH.
Mining BCH is highly competitive and requires advanced computing power to solve complex cryptographic puzzles on the network. Individuals can mine BCH however, mining pools are more profitable and usually have the advantage of solving puzzles faster due to superior computing power.
Fight Out (FGHT) – Newest Move to Earn Project
CertiK audited & CoinSniper KYC Verified
Early Stage Presale Live Now
Earn Free Crypto & Meet Fitness Goals
LBank Labs Project
Partnered with Transak, Block Media
Staking Rewards & Bonuses