💡
NFT Cheats by Rarible is a newsletter and blog series that explores the very pillars the NFT space stands on. Think of those as the NFT World-bearing turtles (or Apes).
It's called NFT Cheats because each newsletter is designed as a cheat sheet that will bring you up to speed on a given niche within the NFT space.
NFT bear market is the third subject in the series. The previous issues covered Historical NFTs and NFT Security.
To put together a cheat sheet on today's topic, we talked to wale.swoosh, researcher-in-residence at Azuki and a self-described 'Director of Threads' on NFT Twitter.

Wale got into NFTs in early 2021 after hearing about them on Gary Vee's Instagram. He joined Twitter a few months after that to become a better trader as he realized that NFT Twitter plays a big role in that. Wale quickly fell in love with the community, and started sharing his own thoughts on the timeline, quickly becoming one of the most popular NFT content writers known for his in-depth threads.

DO NOT treat any of the information below as financial advice, and do your own research (DYOR) before buying into any asset.
The interview has been edited and condensed, meaning the content below is attributed to the guest expert, but shouldn't be treated as a direct quote.
A bear market in Web3 is usually marked by a general flattening of interest in the space. Fewer new people join, and some people who were in Web3 leave.
That leads to a crash in prices, teams stop developing, and the sentiment in the space is generally bad because everyone is fighting for the crumbs of a shrinking pie.
If you look at it historically, bear markets are always caused by an external macro influence. We've had several bear markets in crypto since the industry emerged, and this seems to be the first major bear market for NFTs specifically since they hit the mainstream in 2021.
The current bear market started around Q2 2022, and of course we just can't know when it will end exactly. But I'm positive that it will be followed by a bull cycle.
We've seen projects shed around 70-90% of their floor prices during this bear market. At this point, it might be hard to believe that certain NFTs were trading at 3-10x their current floor price.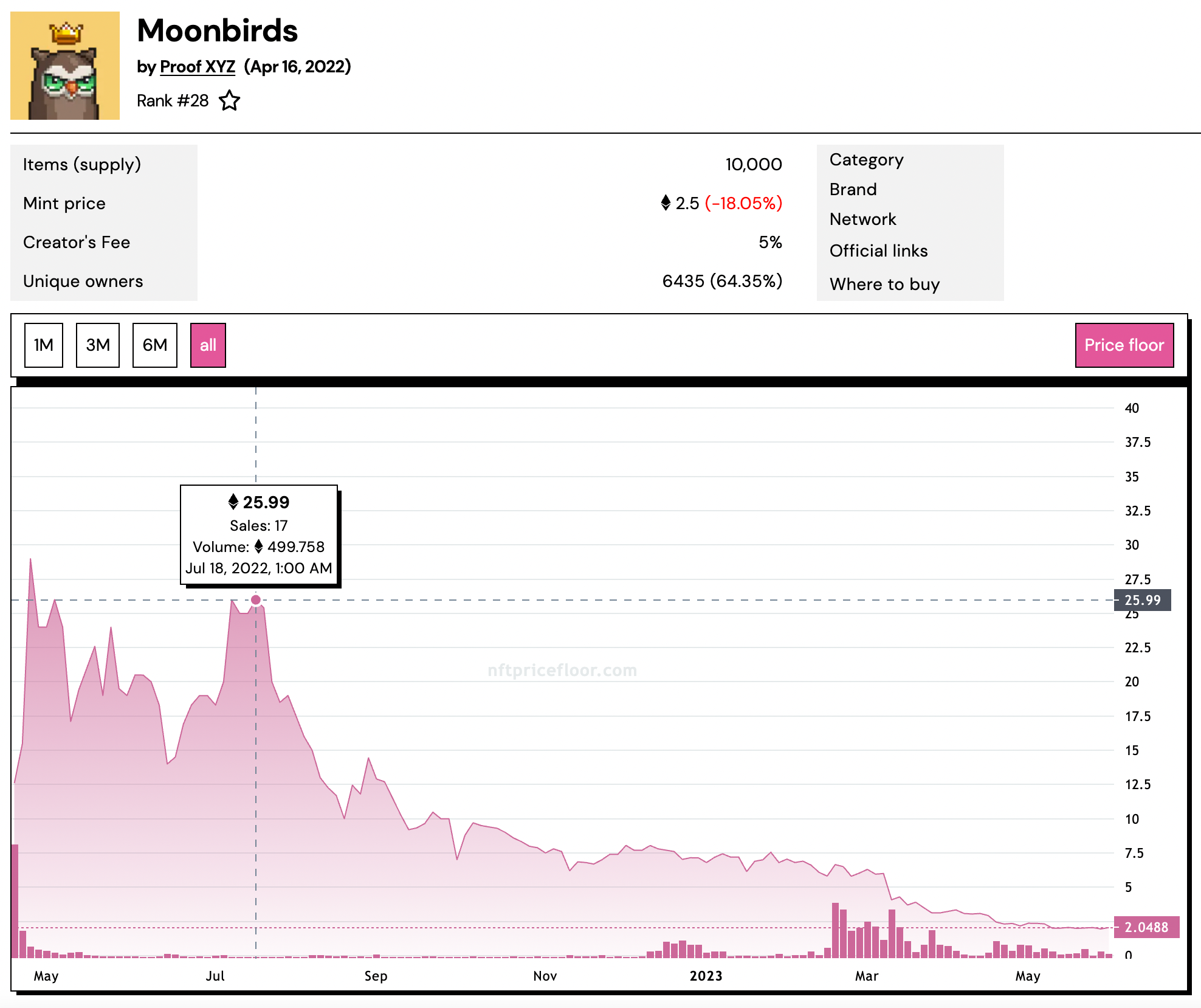 There are several reasons behind that grand fall. First, a lot of people have simply left the space, and the number of traders is getting lower everyday. According to recent numbers, there are around 7,000 active traders left. When you have a few thousand people creating and trading maybe millions of NFTs… the supply/demand ratio gets crazy. When the demand is low, the floor price will follow.
Projects themselves also play a role in this. Without naming any specific ones, we have many teams that have made major strategic mistakes in recent months. In fact, I don't think there are blue chips anymore in the space, outside of the top 3-4 most successful collections.
Then we had ETH volatility, the memecoin season, Blur experimenting with some trading mechanics — all of that have also not been good for the floor prices across the board.
The most important thing for the NFT space at the moment is to get more people in, because when you have 7k traders, it's really hard to run a successful project. Right now, holders are basically playing hot potato with each other. As to how we might onboard more people — that's a whole other topic.
People who say NFTs are dead are partly right.
Most projects are indeed dead or are in the process of dying. 99% of them won't come out of this bear market because they just don't have what it takes. Those who will come out, however, will come out stronger.
Having said that, NFTs as a technology will never ever die because it brings so much innovation to areas like gaming and digital ownership, for example.
To better understand the nature of the NFT market, it's useful to understand the role metas play in it.
Meta is a certain pattern that we see emerge (most of the time suddenly) and disappear (that also tends to happen quite quickly) in the NFT space.
A meta can last anywhere from a few days to months. A good example would be the open edition meta we saw a few months ago started by Jack Butcher's Checks. Once it became clear that Checks are doing good, we saw all those other projects doing open editions, mostly following the same pattern/concept…
At the time, the majority of the content on the NFT Twitter timeline was about open editions. That happened because hype plays a core role in metas. Initially, when a new meta emerges, it starts to generate/feed off hype— everyone wants to be a part of this new exciting thing, and ultimately make some money from it (be it trading, engagement farming, or both).
It's hard to put a finger on what exactly makes a meta pop off, but once it gets going, it spreads fast.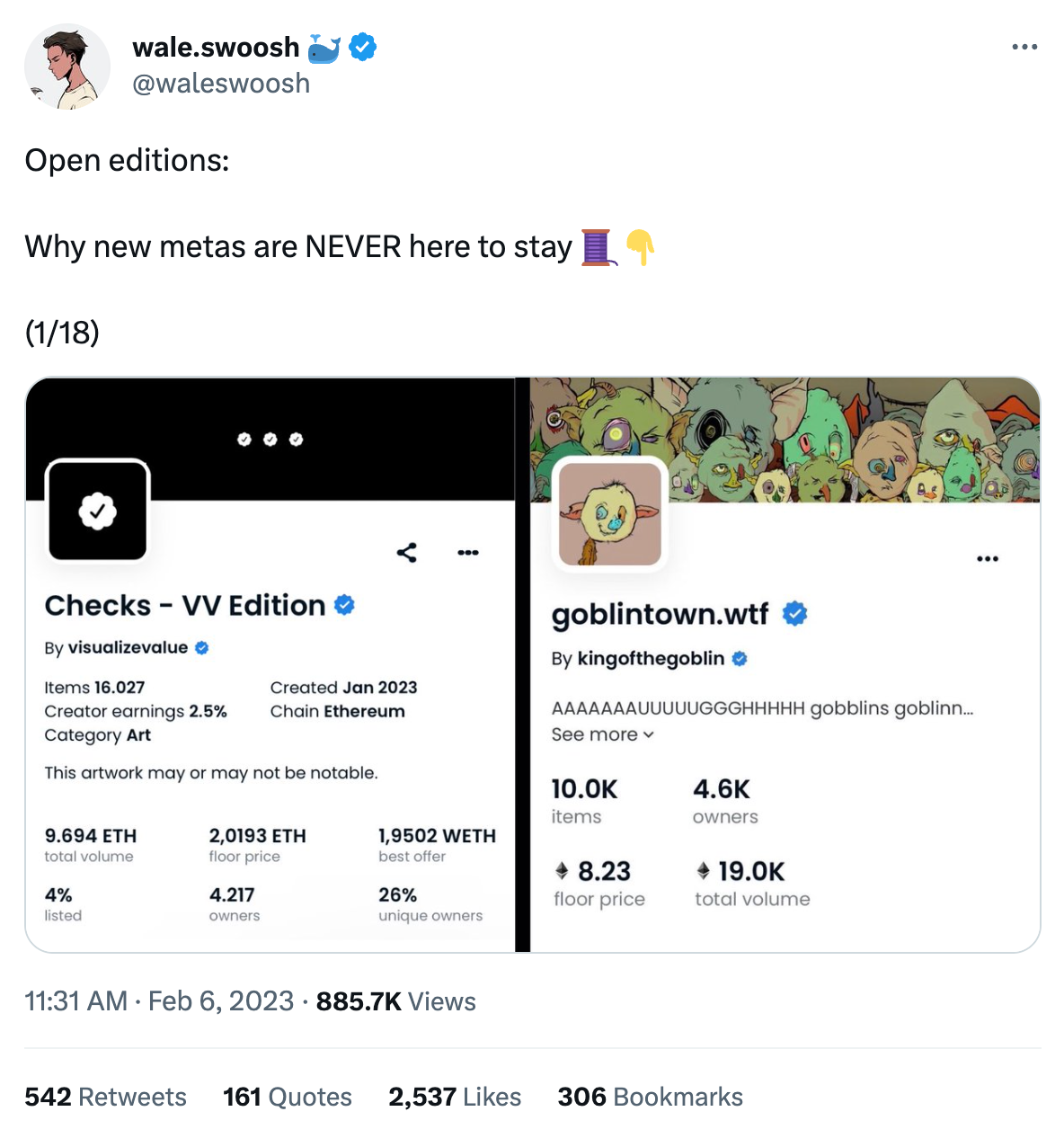 You have to realize that sooner or later, every meta always disappears. The people who are invested in it often think (or want you to think) that it's here forever, but in reality there's always the next shiny thing a few weeks later that people will go chasing after, forgetting about the one that preceded it.
That being said, the OG projects that start metas—like Checks, for example—often keep at least some of their relevance, while most other unoriginal projects who were just trying to copy them vanish.
Besides metas, there's also culture. Culture is a more fundamental kind of thing. Sometimes it's hard to differentiate: is this new thing more transitory and based on short-term attention, or is it here to actually stay, setting a new standard for the space for years to come?
There weren't many events that actually revolutionized the industry, like what Yuga Labs did when they airdropped the serums for the MAYC collection, the distribution trick many projects adapted later on. But those usually come around in a more subtle manner.
So normally when every week you have people saying "oh, that's the new thing, it will change the space forever for years to come" and are super vocal about it, it's almost never the case.
The attention span in this space is incredibly short, and people tend to put most of their attention into things that are 'meta' at the moment.
There are a few examples of traditional brands doing a good job with their web3 initiatives, Gucci and Adidas specifically come to mind. But you and I would probably have a hard time naming 10 successful web2 companies who came into the web3 space, so we haven't seen that unfold just yet.
When it comes to getting new people into NFTs, major brands could be one way to do it — when people see a trusted brand, they might want to get involved, as they're more likely to trust a brand they already know.
It's a two-way street: when more people in general will get interested in NFTs, web2 brands will likely have an easier time onboarding people as well.
It also depends on which audience the specific brand wants to address. When you want to get into the hardcore NFT community, you better understand web3 culture and be part of it so your activation doesn't feel forced—the infamous Pepsi and Budweiser exchange on Twitter became a meme for a reason. But at the same time, as more legacy brands will come in, the focus might shift away from the core NFT community to retail users.
And when more retail comes in and NFT becomes more adopted as a technology, it is likely that the end user won't realize that they are interacting with the blockchain or even that they're buying an NFT. It will be more subtle, and the majority of retail users probably won't be creating wallets and trading NFTs on OpenSea/Blur/Rarible per se.
Nike's .swoosh is another good example of a web2 x web3 crossover—when you sign up there, you don't even know that you are minting an NFT. I think that's a good approach to bringing more people in, because right now the blockchain infrastructure is still very complicated for new people.
At the moment, if you know nothing about web3, blockchain or crypto in general, the learning curve is just too steep: you have to go through the process of creating your own wallet and writing down a 24-word seed phrase, buying and swapping tokens, sometimes bridging—all that just to get an NFT you want. So in regards to mainstream adoption, it will be crucial to build platforms, infrastructure and tools that will be intuitive even for people who are not crypto NFT natives.
It's a good time to take your time.
Let's be honest: If you're coming into the NFT space right now, there's a very high chance that you will immediately leave. The bear market vibes are really difficult to handle for a newcomer.
When you go on NFT Twitter these days, there's so much toxicity, shilling and hate going on… It's really terrible. Then you have short term metas where some people make money and tweet about it nonstop while the silent majority loses money. Of course if you're a newcomer and most of your timeline is talking about how this thing is pumping and they've already made 100x on it, you'll want to join in. The meta will then move on, and most likely you'll lose money. I think that's driving a lot of people away from our space.
But a bear market is actually a great opportunity to learn about NFTs. For me, the ideal way to start in the NFT space is to make a Twitter account, and get involved in NFT Twitter by following some trusted people and just spending time reading their takes, maybe participating in some discussion. And then when you feel comfortable about what you know and feel like you can make informed decisions, then maybe start buying your first NFT or minting your first NFTs (always with the money you can afford to lose).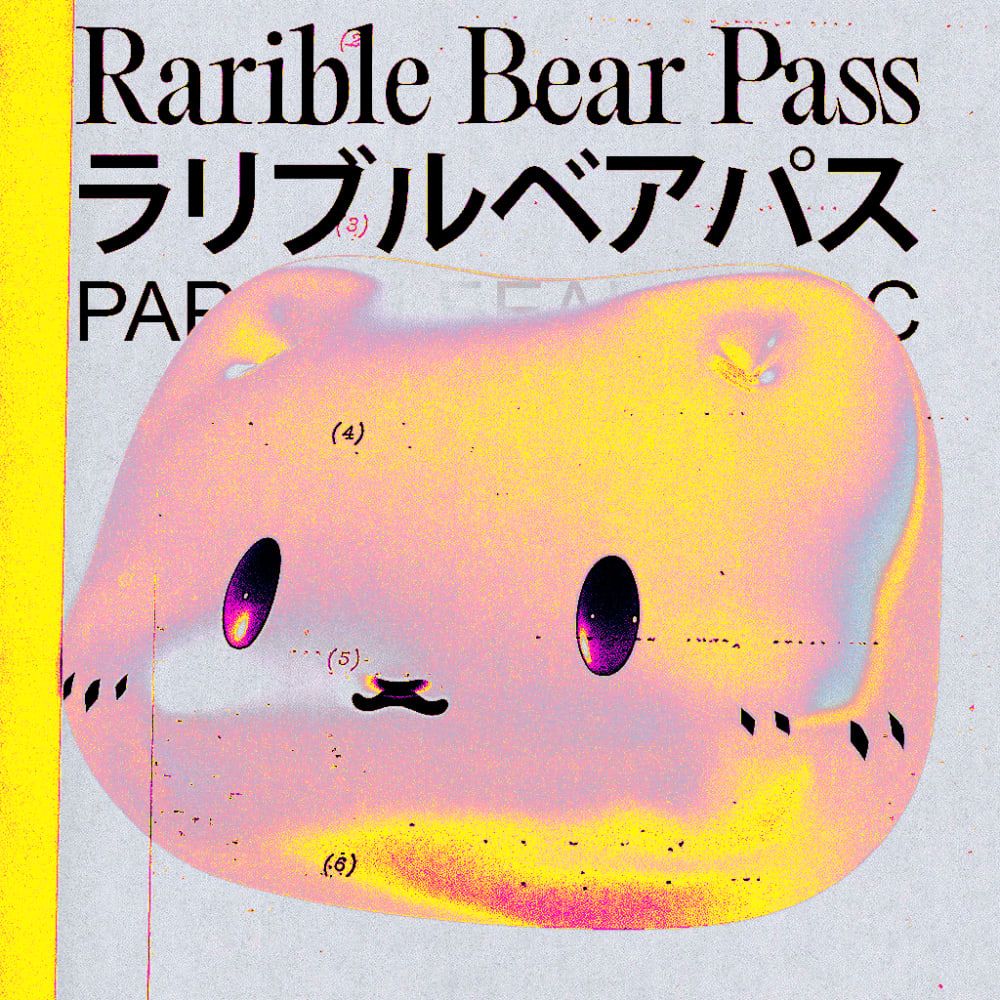 As for choosing which projects to join, look at the team behind it. That's what it is all about in Web 3. When you have a team that's emerged into the space and is actually building for the community, that's a massive green flag. When I make long-term investments, that's usually what I look at.
I think that the team is way more important than the art/roadmap because if you don't have a team that's able to execute, you can have the best roadmap but the project won't be successful. So my advice would be to invest in people you personally believe in. That worked for me in the past, but please remember that in web3 it can all change within weeks or even days. This space is moving extremely fast, and that hasn't changed even during the bear market.
And if you're already in the NFT space, it's a good time to build. When you have a project is a good time to build in silence so you are ready for the next bull market.