Dogecoin has been able to stay true to its reputation of being a memecoin for quite some time now. However, in the recent scenario, from a macro point of view, Dogecoin's performance has continuously been disappointing its investors.
Enthusiasts, as well as long term investors, seem to be losing their patience with the cryptocurrency for quite some time now. To prove a testament to this sentiment, according to Ahrefs, 'should I sell my Dogecoin?' is typed into Google atleast 2,900 times in a month.
So, should you really sell your Dogecoin in such a scenario? Moreover, where does Dogecoin stand amidst all of it? Will it be able to sustain the emergence of new meme coins and keep the investors enthusiastic about it? We will find out.
Why are Investors Willing To Sell Their Dogecoin?
Dogecoin experienced some major spikes, with prices increasing by 216% in January 2021. The tweets by Tesla co-founder Elon Musk also gave the cryptocurrency some popularity amongst first-time investors and a sense of confidence for long-term investors.
But when it came to fundamentals, there are some glaring issues which are making investors consider selling the cryptocurrency for the better. Here are some issues which might be making people consider selling their Dogecoin.
Lack of Real-world Utility
The cryptocurrency gathered popularity by being a part of the pop culture, and gaining popularity as an overnight internet sensation. Hence, lacking real-world utility to some extent.
While the founders of Dogecoin created Doge as a payments network, things haven't been able to take shape accordingly. The overall acceptance and utility of the cryptocurrency haven't been that high yet.
Unlimited Supply
Dogecoin began with a total supply of 100 billion coins. However, as of now, it stands at 133 billion coins. On the other hand, what makes Bitcoin unique is its finite supply of 21 million.
This beats the basic concept of economics. As there's no scarcity for Dogecoin, it somewhat impacts its value in the investor circles. To summarize, the more Doge there are in circulation, the lesser its value is, and that's what is been taking place till now.
A Speculative Asset
Dogecoin is a speculative asset. The currency has seen some highly volatile bouts of spikes and drops.
It isn't the utility of the cryptocurrency that makes people buy it, but rather the hopes of the cryptocurrency rising in price, witnessing a major spike. However, when it comes to the fundamentals of cryptocurrency, that isn't something considered much by investors.
Bitcoin's history has made people trust it in the longer run, however, Doge hasn't been able to command that authority and goodwill yet.
Exorbitantly High Market Capitalisation
According to CoinMarketCap, Dogecoin currently has a market capitalisation of $8 billion, making it the top 10 cryptocurrencies with the highest market cap.
With a rising 'sell' sentiment amongst the older investors, it doesn't seem like a prudent step to buy Doge right now. Moreover, investors who bought Doge when it hadn't exploded yet are already selling their investments.
It makes more sense to go for cryptocurrencies with lower market capitalisation at the moment, for instance, Tamadoge (TAMA). The best cryptocurrencies tend to be the ones one can buy during an initial coin offering or a presale round at low valuations.
Selling Dogecoin: Should You Go For It Now?
When it comes to selling Dogecoin investments, there are a few things that investors shall consider.
Selling Doge investments at the current period, even if the coin is at a loss makes more sense if investors plan to invest it into another altcoin, with a relatively lower market cap, such as Tamadoge. This might even be the fastest way to recover losses that occurred from one's Doge investments.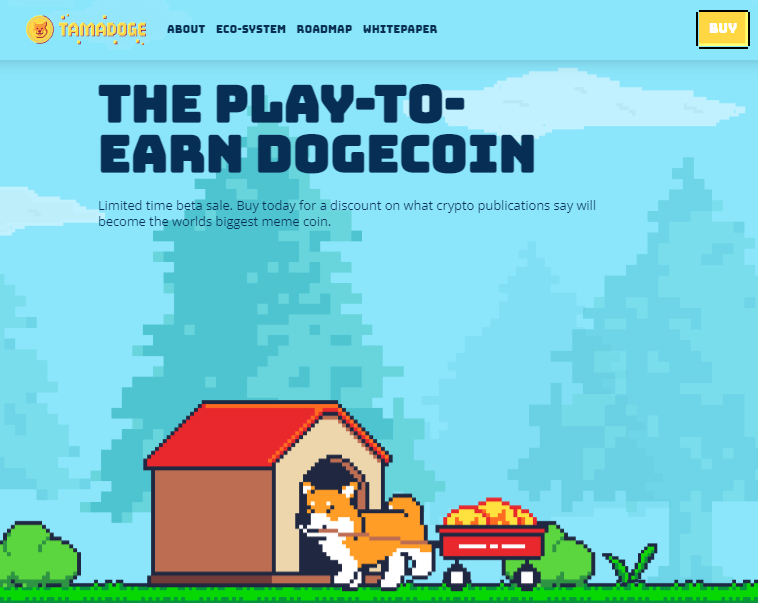 However, investors shall conduct their own due diligence and research about the overall potential of a cryptocurrency and their investment strategy before going for a sell or buy decision.
Conclusion: Selling Doge and Invest in Other Meme Coins
When it comes to investing in meme coins, it tends to work the best when entered into their non-popular phase.
Once the meme coins have attained cult-like popularity, investing in them becomes a hassle rather than a viable investment. With most of the meme coins having relatively lower utility and capitalising on their virality, it is somewhat like a social media trend.
FOMO investing in meme coins tend to have a negative result rather than an exponential result. With Doge's future charts looking rather bearish, it does pose a threat. However, what creates a sense of optimism is that the cryptocurrency has been able to stay relevant by staying in the 'Top 10' charts for coin market cap.
Read more-
Battle Infinity – New Crypto Presale
Presale Until October 2022 – 16500 BNB Hard Cap
First Fantasy Sports Metaverse Game
Play to Earn Utility – IBAT Token
Powered By Unreal Engine
CoinSniper Verified, Solid Proof Audited
Roadmap & Whitepaper at battleinfinity.io