One of the biggest questions people have about memecoins is whether they will ever reach $1. And if you've been a market watcher for a long time, you realize the mountainous task of crossing even one penny.
However, times are changing, and people have started to expect more from all types of cryptos – memecoins included. In this article, we will make memecoin price predictions for the five memecoins in 2022.
Tamadoge: The Memecoin Price Prediction for this Token is Bright
Memecoins aren't generally bought for their utility but for their vanity. Prices of such tokens have often seen upticks that go as high as 5700x. But the corrections afterward have been so steep that people have also lost millions. Tamadoge (TAMA) removes the lack of utility from the equation right from the very start. It is a play2earn cryptocurrency that focuses on providing earning opportunities to the holders through Tamadoge Battling Arenas.
Investors can buy TAMA and use it to get Tamadoge Pets from the NFT marketplace. They are bought as babies. These babies, when mature, can be put to battle in the battling arena to earn Dogepoints. By the end of the month, players with the highest number of Dogepoints will be rewarded in TAMA tokens.
Tamadoge's roadmap is also robust. It is bringing the game next year as an AR (Augmented Reality) App on mobile. Developers also have plans to convert the Tamadoge Pets into 3d versions to exist within the metaverse. A Tamaverse is also in the cards. With so many bullish signs, this token will likely hit $1 after the end of its general presale.
Dogecoin: Will the world's most popular Memecoin hit $1
Dogecoin is the world's first and the most popular memecoin. Envisioned as a lighthearted cryptocurrency, Dogecoin became a force to be reckoned with when it reached $0.68. It became the memecoin to get the closest to the dollar value. Even after the retrace, people continue to remain bullish about this memecoin – hoping for the day its price is $1.
And it has a unique use case to back that up. Users can get tipped in Dogecoin to create quality content on Twitter or Reddit. However, that's the limit to its usage – and the only time Dogecoin has seen a significant price action is when Elon Musk has come to Twitter to talk about it.
At the time of writing, Dogecoin is seeing a bit of an uptrend. It is up by 6.44% in the last 24 hours and still is the world's 10th biggest crypto asset by market cap.
Your capital is at risk
Shiba Inu: A Memecoin Trying to be More
Shiba Inu is one of the most popular memecoin at the moment – partly due to the crowd's sentiment behind it even during the bear market. Introduced as the Dogecoin Killer, this memecoin was created anonymously and aimed to be similar to Ethereum within the memecoin niche.
Much of the success behind this token lies in the sentiment of the crowd and the different plans. Ryoshi, the pseudonym the developer uses, is currently working on SHI, the financial ecosystem powered by Shiba INU. There are plans to add SHI to a weighted pool pair on the Curve protocol as well.
People's interest in this token rose as Shiba Inu started burning more tokens to control the supply. Seeing the effort of controlling the supply renewed customer interest, and Shiba Inu experienced a steep upswing in February.
At the time of writing, however, the token trades sideways between $0.000011 and $0.000012.
Your capital is at risk

Dogelon Mars: A Hype-Fueled memecoin with no use case
Dogelon Mars is a memecoin with no use case, other than the fact that it is increasingly meme-able. This cryptocurrency is riding the wave on the back of its backstory, inspired by Elon Musk's desire to colonize mars.
50% of the token were given to Ethereum founder Vitalik Buterin in a bid to burn them and remove them from circulation. However, the supply of Dogelon Mars is artificially high, making it unlikely to hit $0.01 soon.
At the time of writing, Dogelon Mars is $3.69e-7 and ranks at #137 by CoinMarketCap.
Your capital is at risk
Baby DogeCoin: An Ambitious memecoin with high potential
Baby doge enters the crypto space as a simple memecoin, with tricks learned from its meme father, Doge. However, this hyper-deflationary token has an ambitious roadmap that includes GameFi, NFT creation, and more pet charity efforts, which sets it apart from the rest.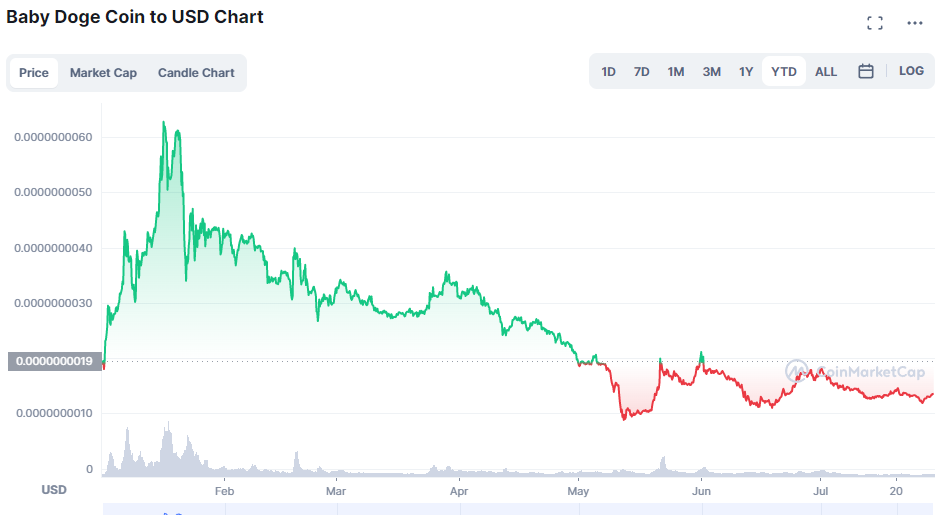 Reflection, Coin Burning, and LP acquisition are used to improve the scarcity of the Baby Doge crypto. The token reached an all-time high in 2021 when it saw a massive rise of 44x.
As for the future of the token, it will depend upon how quickly it reaches its roadmap targets this year.
Your capital is at risk
Conclusion
While we can't say whether Dogecoin will reach $1, we can say that there is potential for another crypto, Tamadoge. This token is starting out as a utility memecoin and has many upcoming developments. It is currently undergoing a beta-presale, and we will likely see massive price increases once it gets listed on CEX and DEX.
Read More
Battle Infinity – New Crypto Presale
Presale Until October 2022 – 16500 BNB Hard Cap
First Fantasy Sports Metaverse Game
Play to Earn Utility – IBAT Token
Powered By Unreal Engine
CoinSniper Verified, Solid Proof Audited
Roadmap & Whitepaper at battleinfinity.io