August is proving to be a relatively strong money for the market, with several investors confident that it could kick start a recovery for cryptocurrencies. And with several large-cap coins putting up impressive numbers in recent days, the market's sentiment is looking much better than it was when we were heading into July.
That said, the crypto market is currently flooded with opportunities for investors looking to earn profits. And with new coins listed on the popular Uniswap decentralised exchange (DEX), investors can get in early on several profitability opportunities. This article explores some of the best new coins listing on Uniswap.
1. Lucky Block (LBLOCK)
The top option among the best new coins listing on Uniswap is LBLOCK. The asset powers Lucky Block – a global non-fungible token (NFT) competition and rewards platform that launched in 2021. Lucky Block offers access to regular crypto prize draws and NFT competitions. The platform allows users to access its ecosystem using the LBLOCK token.
LBLOCK V2,  the tax-free version of the Lucky Block ecosystem, is now available on Uniswap. Investors can now buy Lucky Block on Uniswap V3 following its listing this week.
Uniswap V3 is the popular decentralised protocol for swapping ERC-20 tokens. Lucky Block V2 token is an ERC-20 token created to increase liquidity and raise awareness around the project. The V2 token is distinctively different from the V1 version, which features a 12% tax on transactions. Lucky Block token is up 39% in the last 30 days.
$LBLOCK V2 Tax Free Trading Is Now Live on @Uniswap🔥

Become a holder of V2 token, that has gained 250% in the first couple of days and is expected to continue rocketing!🚀

Simply

➡️ Go to https://t.co/iQy9Pc5JTA pic.twitter.com/puHhZL91aF

— Lucky Block (@luckyblockcoin) August 8, 2022
Just last week, LBLOCK V2 token pumped 250% following its listing on the LBank exchange and on the MEXC exchange. The token also saw an increase in trading volume on the LBank platform. Terence Ribaudo, the head of product for Lucky Block, also said that they are in the process of listing on more centralised exchanges. This should bolster LBLOCK's investor exposure and ramp up price growth.
The protocol organises regular prize draws and NFT draws, giving away up to $50,000 in LBLOCK tokens and other prizes weekly.
The winner of the boxing gloves signed by @joejoyceboxing was revealed 💥

Check out our latest post 👉 https://t.co/jISBKNPSCm

— Lucky Block (@luckyblockcoin) August 9, 2022
It's worth noting that LBLOCK holders with up to $500 worth of the asset get to enter the draws for free. The NFT draws are also available to everyone who holds Lucky Block's Platinum Rollers Club NFTs.
2. Aave (AAVE)
For avid cryptocurrency investors, AAVE is one asset that needs no introduction. The token is one of the shining stars of the decentralised finance (DeFi) space, and it powers the Aave platform – one of the most prominent lending platforms in the market, according to data from DeFi Pulse.
One of the best coins listing on Uniswap, AAVE is riding an impressive 28.73% jump in July 2022.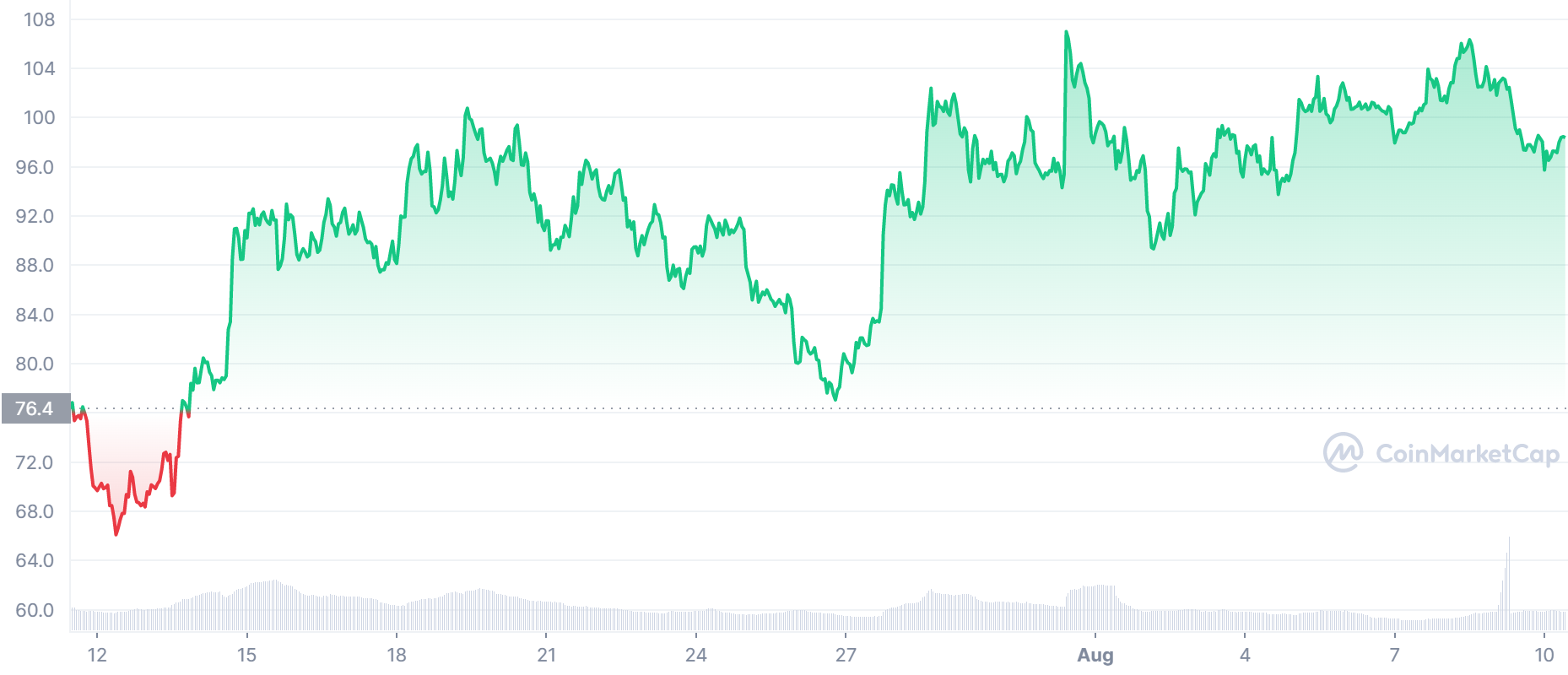 Just last week, Aave made a significant play for growth after the platform's decentralised autonomous organisation (DAO) approved the creation of GHO – a stablecoin backed by over collateralised assets that will earn yield. This was confirmed according to results from a voter snapshot.

The community has given the greenlight 🟢 for GHO 👻 The next step is voting on the genesis parameters of GHO, look out for a proposal next week on the governance forum https://t.co/ba4oK50Wb8

— Aave (@AaveAave) July 31, 2022
The move was greeted by a spike in the AAVE price, with investors expected to buy Aave even more as the market continues to flip bullish.
3. Synthetix Network (SNX)
Synthetix is a DeFi platform that allows users to issue their own synthetic assets on the popular Ethereum blockchain. The protocol supports synthetic cryptocurrencies, synthetic commodities, and much more, offering non-blockchain-based asset exposure to the crypto market.
SNX, the protocol's native token, saw an impressive 60.5% increase in the month of July 2022, riding off the market rally that happened that month.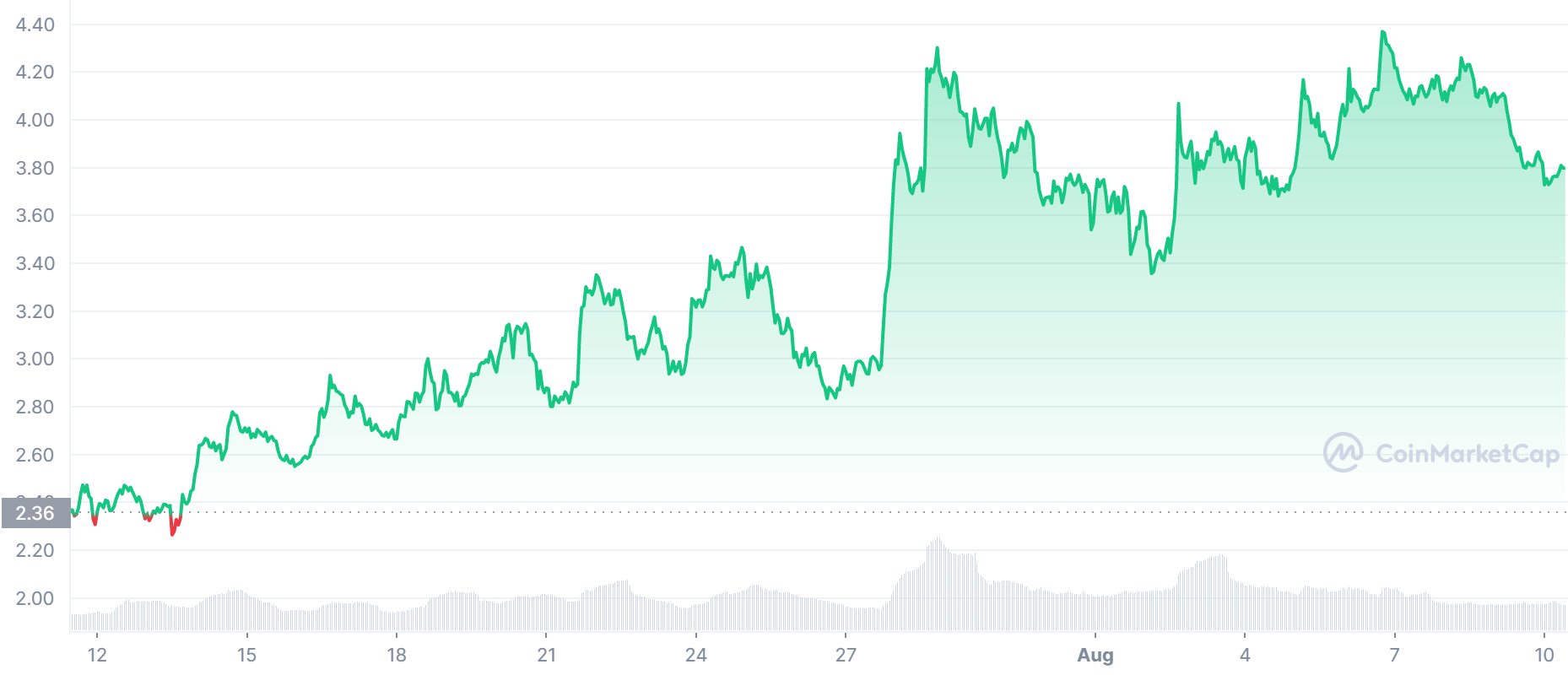 Even at that, there is a strong push to buy Synthetix right now.
Synthetix staking is now live on Optimistic Ethereum's L2 mainnet! @optimismPBC https://t.co/zxGjJghWpW

— Synthetix ⚔️ (✨🔴_🔴✨) (@synthetix_io) January 15, 2021
The platform has had a solid few months, integrating DEX aggregator 1inch and incorporating the Optimism L2 as a way to improve its use cases. SNX is one asset to look forward to as the market condition improves.
4. Basic Attention Token (BAT)
The BAT comes next on the list of the best new coins listing on Uniswap. The asset was created by the privacy-focused Brave browser as a means to provide rewards for users who watch ads and interact with them on its platform.
Following a solid month when it rose by 7.62%, investors are seeing more reasons to buy Basic Attention Token.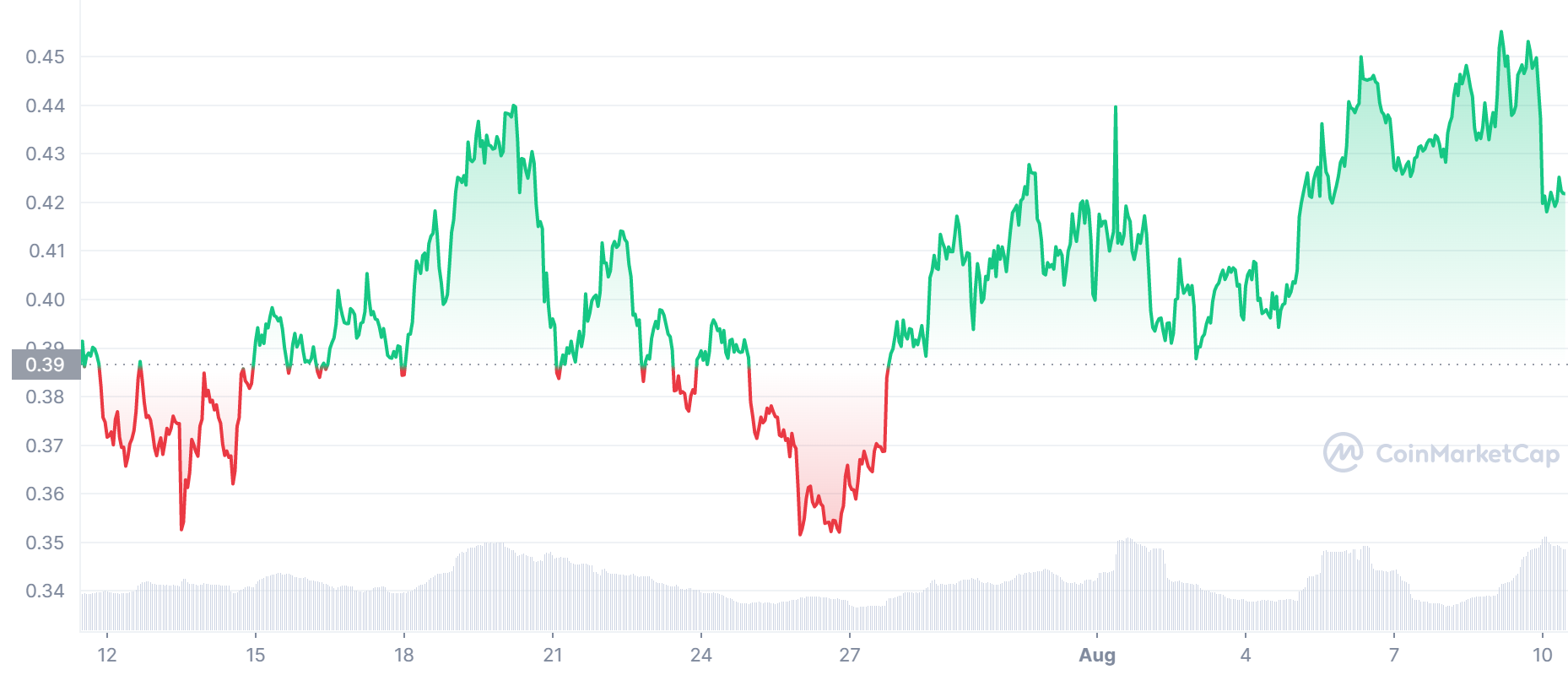 The Brave browser continues to lead its peers when it comes to crypto innovation, with the platform recently expanding its support for decentralised applications (dApps) built on the Solana blockchain.
We've partnered with @solana to integrate it into the browser and make it the default for DApp support. We will soon bring best-in-class wallet features for the Solana blockchain into our desktop & mobile browsers. #BreakpointLisbon https://t.co/tTB7NXKWjI

— Brave Software (@brave) November 8, 2021
5. Quant (QNT)
Rounding out the list of the best new coins listing on Uniswap, we have QNT – the native token for Quant.
The Quant protocol is one of the most advanced platforms looking to solve the lack of interoperability between blockchains. By adding overledger functionality, the protocol has opened several top blockchains – including Bitcoin, Ethereum, and Ripple – to its application.
"With #Overledger, we make it seamless to integrate DLT into existing infrastructure. It's an enterprise grade approach. They can create new products and new revenue and actually do business with people they can't trust," explains @GVerdian.

Read more: https://t.co/KMpbL1Mb8k pic.twitter.com/Mj8noubzNQ

— Quant (@quant_network) February 16, 2022
QNT, the platform's native token, had an impressive month in July, rising by 58.16%. The asset appears to continue accumulating as the market works out of its current bearish run. Investors looking for high-value altcoins can buy Quant as its technicals remain strong.
Related
Tamadoge – Play to Earn Meme Coin
Earn TAMA in Battles With Doge Pets
Capped Supply of 2 Bn, Token Burn
NFT-Based Metaverse Game
Presale Live Now – tamadoge.io