Recently Ethereum has been bullish, breaking the, $1800 and $1900 resistance levels. However, things have taken a different tone in this crypto market. Consequently, we may anticipate that the Ethereum price will reverse back to around $1800. Nevertheless, before making such conclusions, it is necessary to examine signs in this market before jumping to conclusions.
Ethereum Coin Forecast Statistics Data:
ETH current price: $1,917
ETH  market cap: $230.4 billion
ETH circulating supply:121.98 million
ETH total supply: 121.98 million
ETH Coinmarketcap ranking: #2
Today's analysis will critically study the signs Ethereum trading chart. This will be done to deduce what is likely to happen soon. Also, we shall try to find out what best trading decisions to make in this market.
Key Marks:
Resistance levels: $1895, $1900, $1980
Support levels: $1,917, $1,890, $1860
Bulls Are Taking over ETH Market, While Tamadoge is Bullish
The ETH/USD daily chart shows that the bulls are now in control of the price action. It looks as if traders who bought the Ethereum crypto earlier on feel they've made enough profit and are now exiting the market. Consequently, traders' actions gave the bears the upper hand over the bulls. Analyzing the market via trading indicators, we can observe that the price action is getting closer to the 9/21-days MA lines. Should selling pressure continue to increase price motion will soon fall below the MA lines. Eventually, the price may fall further towards the $1,500 support level should the MA lines cross each other above the price action.
Furthermore, the Stochastic RSI threads have crossed in the oversold area. Also, these lines are now journeying downward. This implies that the market is on a downtrend. Thus Traders who entered the market at around $1,400 can place their stops around a price level of $1,780. So, if the downtrend doesn't reverse by then it will be advisable to exit this market as more losses may be recorded.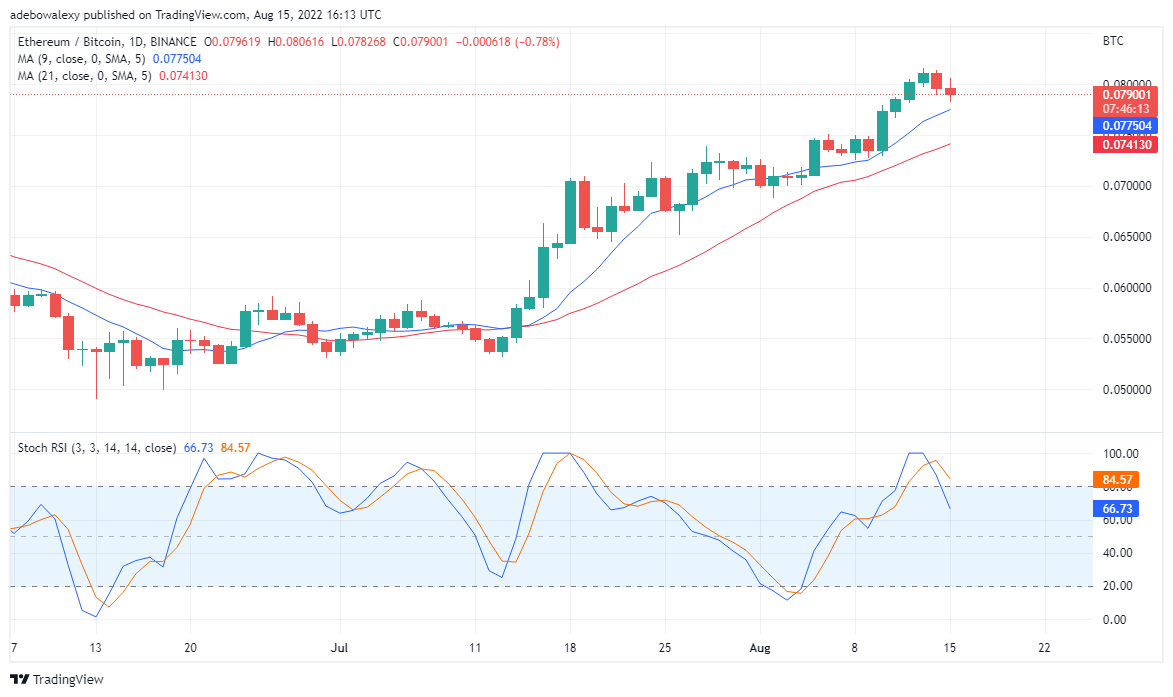 Ethereum Coin Price Analysis:  Bearishness extends to ETH/USD Market
The ETH/BTC market has also been infected with the bearish virus. Also, the behavior of the indicator on this chart is quite similar to what we have on the ETH/USD chart. This implies that traders of this pair can anticipate similar market behavior between the two markets. Consequently, traders of this pair should just adjust their stops to around 0.077495, hoping that the trend will reverse before hitting the stop.
Your capital is at risk.
So, if the current trend doesn't reverse it will be safer to get out of the market. So, traders who bought the pair much earlier on around 0.07000 will still have made some profit if the stop is triggered.
TAMA is coming in to fill the gap present in the meme coin space. Tamadoge (TAMA) is filled with utility, with its use cases seen in the launch of a solid business proposition for the project.
Related
Tamadoge – Play to Earn Meme Coin
Earn TAMA in Battles With Doge Pets
Capped Supply of 2 Bn, Token Burn
NFT-Based Metaverse Game
Presale Live Now – tamadoge.io