Decentralized exchanges (DEX) are the platforms widely used by crypto traders to sell and buy cryptocurrencies in a non-custodial way.
One such example of a popular DEX marketplace is PancakeSwap. It runs on the BNB Chain, formerly known as Binance Smart Chain (BSC), and is one of the popular DEX platforms because of its greater liquidity, staking option, and immense user base.
PancakeSwap aims to list a few coins that have the potential to go to the moon in the coming times. These are listed below:
Best New Coins on PancakeSwap in August 2022
Battle Infinity
Battle Infinity (IBAT) is a P2E gaming platform comprising six different games called The Battle Arena. This gaming platform is based on the metaverse and allows users to interact in the virtual world, besides playing and battling.
The founders finished the KYC procedure on the reputable Coinsniper.net, which also adds to the benefits of this platform.
The game's main feature is the NFT passes, where users can form sports teams, enter competitions, and compete with other users. Users get rewarded with the $IBAT tokens or NFTs as prizes upon winning competitions.
The Battle Infinity ecosystem is powered by the $IBAT token, which is a BEP-20 token on the Binance Smart Chain. The platform's presale ended and successfully raised 16500 BNB in 25 days.
Moreover, this platform also aims to get listed on PancakeSwap on August 17, 2022.
Lucky Block
Lucky Block is a blockchain-based online gambling platform that allows users a fully transparent, fair, and secure gambling experience. This gambling platform was launched in January 2022 and is built on the popular BSC network.
Lucky Block initiated version 2 of its network in February 2022, which is Ethereum compatible and provides a gateway to the universe of Ethereum holdings, applications, users, and distributors.
The native digital token of the Lucky Block platform, LBLOCK, is a BEP-20 token.
LBLOCK is used within the Lucky Block's ecosystem for various purposes, including lottery ticket sales and prize circulation. The prizes are distributed in LBLOCK rather than fiat money; hence, jackpots can be distributed instantly and without any mishaps.
LBLOCK holders who store their tokens in a crypto wallet connected to the Lucky Block app will receive regular bonuses. Also, as the Lucky Block platform expands, LBLOCK holders will be able to garner an additional income source.
Lucky Block's current price is $0.000962, with a 24-hour trading volume of $702,137. The maximum number of LBLOCK coins available is 100,000,000,000.
DaoVerse
DaoVerse is a blockchain-based farm-as-a-service platform that lets users earn yield in DVRS, its native token, by staking rewards.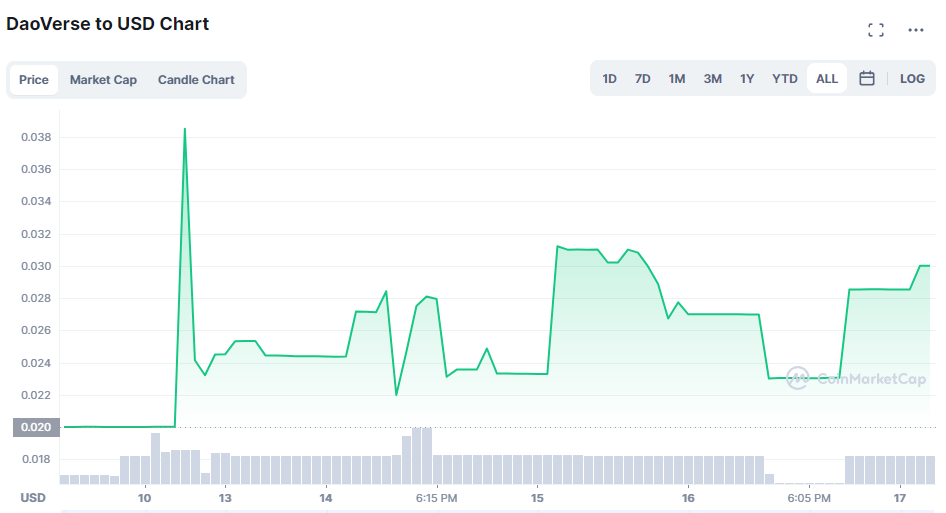 DaoVerse's overall goal is to utilize the treasury funds to grow and develop crypto games (Play-to-Earn, RPG, Social Media, and NFT trading) and metaverse.
DaoVerse has a non-inflationary token, $DVRS, that supports a fixed supply and imposes a zero tax fee on the $DVRS smart contracts.
As the DaoVerse is blockchain agnostic, it ensures to add another layer of decentralization to this platform's ecosystem.
By the time of writing, DaoVerse's price is at $0.02305 with a market cap of $11 million.
BabyApeCoin
BabyApe Coin is a decentralized, transparent, and reliable smart contract that generates static BNB rewards for its holders. The static reward model is what makes BabyApeCoin unique and adds to its utility.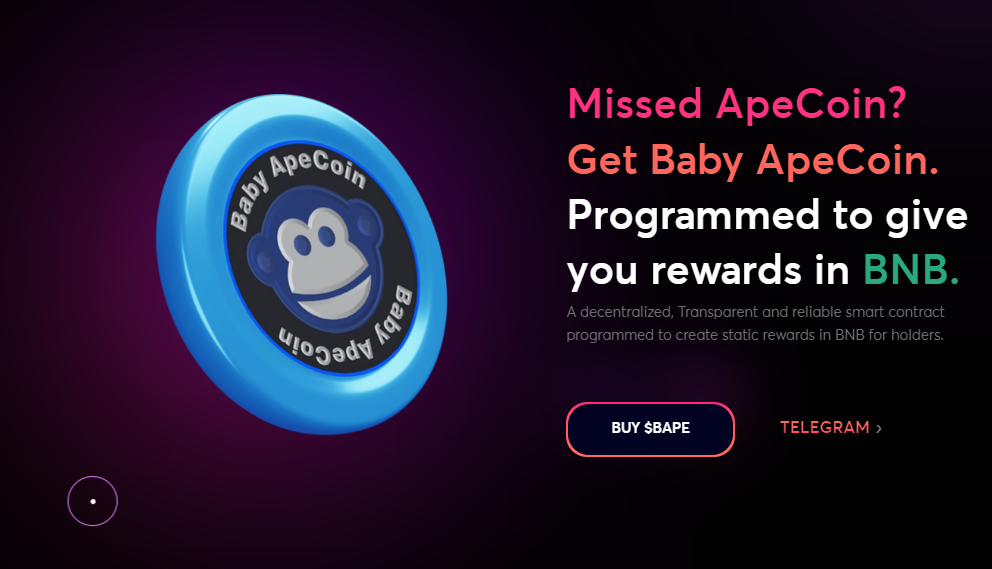 For the users who overlooked the success of Apecoin, BabyApeCoin is the solution as it is the original $ape reflection coin.
Holders of BabyApeCoin are rewarded in native token reflections and token holding percentages.
The BabyApe Coin team picked the reflection token over the reward token because it will not require contract selling other than promoting for marketing funds. Reflections also inspire people to hold because they can passively grow their investment.
The maximum wallet is set to 1% to avoid large holders who may harm other investors. The team will communicate and adjust the taxes as needed. For example, if more liquidity is required, reflections can be turned off, and the liquidity tax will be temporarily raised.
BabyApe coin's current price is $0.000168, up by 0.78%. BAPE coins have a maximum supply of 1,000,000,000 and a market cap of $168,008.
Conclusion
The above list comprises the best new coins on the PancakeSwap DEX that investors can have a look at and even trade them.
Out of all the listed coins, Battle Infinity is one such platform that has the best utility and is set to be released on PancakeSwap on 17th August at 16:00 UTC. Potential investors can head over to this DEX if they miss the chance to acquire IBAT during its presale.
Read More
Battle Infinity – New Metaverse Game
Presale Sold Out Early – Upcoming PancakeSwap Listing
First Fantasy Sports NFT Game
Play to Earn Utility – IBAT Token
Powered By Unreal Engine
CoinSniper Verified, Solid Proof Audited
Roadmap & Whitepaper at battleinfinity.io