The cryptocurrency market is volatile and often behaves in unexplainable ways. Just the other day, we commented on how memecoins have been trying to find a stable ground by adding more utilities. And in the past few weeks, major crypto memecoins have started to pump again. Why is Dogecoin going up again? That's the question the entire community has been asking.
And quantum of such questions has intensified in the last 24 hours as DOGE has gone up by 10.21% yet again.
What is the reason behind Dogecoin Pumping?
The reason behind the latest rally of Dogecoin can be put into three magic words – Bitcoin is rising. For the longest time, the world's first crypto has struggled to stay above the $22k price point. But three days ago, it crossed the $25k mark for the first time since plunging below $20k due to crypto winter.
And as it always happens, Bitcoin climbed and picked up other cryptocurrencies, allowing several altcoins to rise in price. Since Dogecoin is one of the best memecoins in the market – the very definition of speculative crypto – the pump it received was eminent.
However, it would be too simplistic to give all the credit to Bitcoin whales who "held" the line – squeezing the asset for a finite time and pushing it above $25k. Now the price has dropped below that point and is currently hovering over $25k support.
The other reason behind this pump is the introduction of the Dogecoin Code 1.14.6 upgrade about three weeks ago. It wasn't a huge upgrade, considering all it did was introduce some minor fixes. But when there is a minor upgrade for a memecoin – people see it as a sign of utility – and Dogecoin is trying to get there.
What lies ahead of Dogecoin?
For a long time, Dogecoin has only found one use in the crypto ecosystem – as a tipping reward on Reddit and Twitter. And since Elon Musk has often come on Twitter to speak a few words about this coin, the value of DOGE has pumped every time.
Things changed for Dogecoin in mid-2021 during the crypto boom period, and it was not only about the price. It was the revival of the Dogecoin Foundation – a team of investors coming together to create a discernible use case for this crypto so that it can come out of its memecoin shell. And while all-plans-and-no-action has been the case for this foundation for a long time, things might be changing.

The crypto winter has made people aware that speculative assets aren't profitable in the long term. And don't mistake it, but Dogecoin is as speculative as it goes. And while the crypto leaders are coming together to make the DOGE more than it was, it is time to look for alternatives if you are looking for cryptocurrencies with real use cases.
Tamadoge – Riding the Wave of DOGE but Adding Utility to the Fold
Dogecoin had the right idea. It came at a time when the internet could get behind cute dog and cat pictures and ran with it to gain extreme success in the crypto market. However, it is unfortunate that this cryptocurrency has no use case yet.
Because the pumps that we talk about will get retraced soon, just as the market subsides. The rise of Proof of Stake cryptos and more utility tokens will likely decouple the crypto market trends from Bitcoin's price action in the future. And when that happens, having invested in the right token is what will get you far.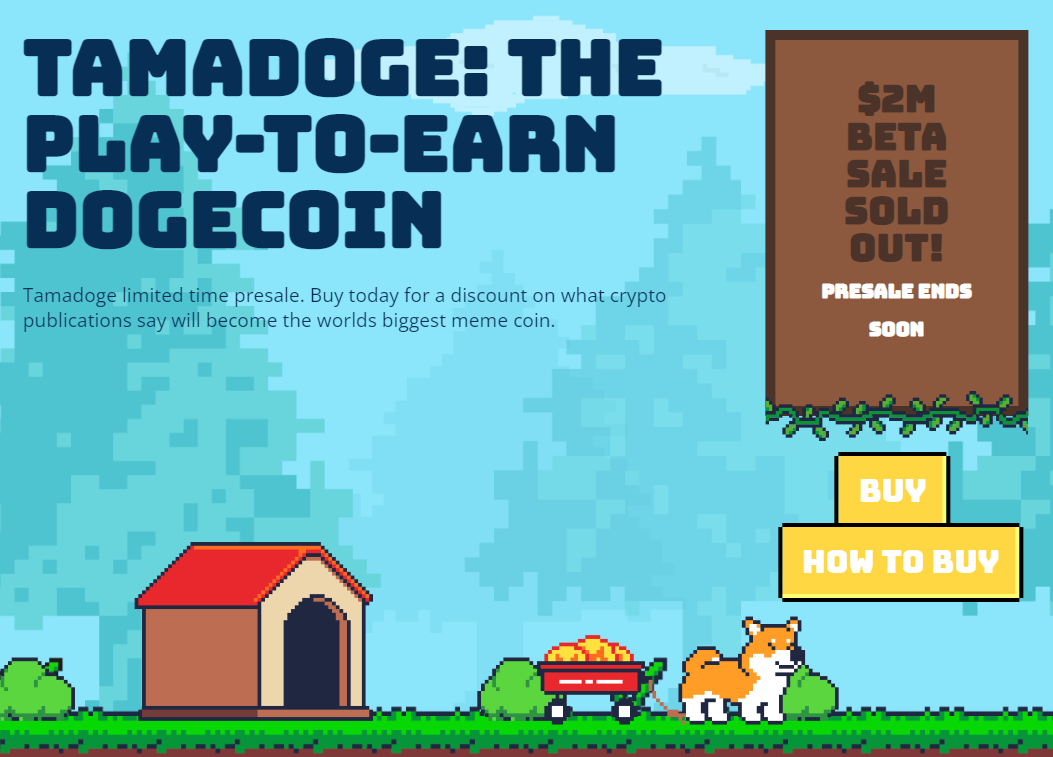 Here is Tamadoge, doge crypto powering a play-to-earn ecosystem wherein players can buy Tamadoge Pets NFTs and breed, raise and put them to battle to earn rewards.
It is one of the best presale cryptos to come out this year and has raised upwards of $4.5 million at the time of writing.
Unlike Dogecoin, Tamadoge doesn't need speculation to grow. It has strong foundations and a core team working hard to develop an Augmented Reality game that will likely take to the stratosphere – making this crypto highly profitable for the early movers.
For more updates about Tamadoge, get to their official telegram group.
Read More
Tamadoge – Play to Earn Meme Coin
Earn TAMA in Battles With Doge Pets
Capped Supply of 2 Bn, Token Burn
NFT-Based Metaverse Game
Presale Live Now – tamadoge.io