Dogecoin trended downwards after it stroke a resistance level near $0.08540. The downtrend abated when price action reached what seems to be another strong support around $0.06780. However, this support is still holding, but it looks as if buyers lack the power to take the DOGE/USD value up. Let's consider the signs in this market critically.
DOGE Analysis Statistics Data:
DOGE Price Now: $0.06790
DOGE Market Cap: $8.97 billion
DOGE Circulating Supply: 132.7 billion
DOGE Overall Supply: 132.7 billion
DOGE Coinmarketcap Ranking: #10
Important Marks:
Top: $0.06797, $0.06840, $0.06890
Floor: $0.06790, $0.06750, $0.06710
Dogecoin Is not Ready for an Upside gain, the Basis for Tamadoge is Bullish
Looking at the DOGE/USD daily chart portrays the buyers as too weak to initiate an Uptrend. Even after the Stochastic Indicator curves have gotten to the oversold area, and have crossed each other, still price action seems unready to bounce upwards. Also, the EMA lines have yet delivered another cross while above the price action. Consequently, this is signaling that the value of this crypto might fall even further. Eventually, this causes the Stochastic RSI to stay on for a significant amount of time in the highly sold region, as the price continues to fall.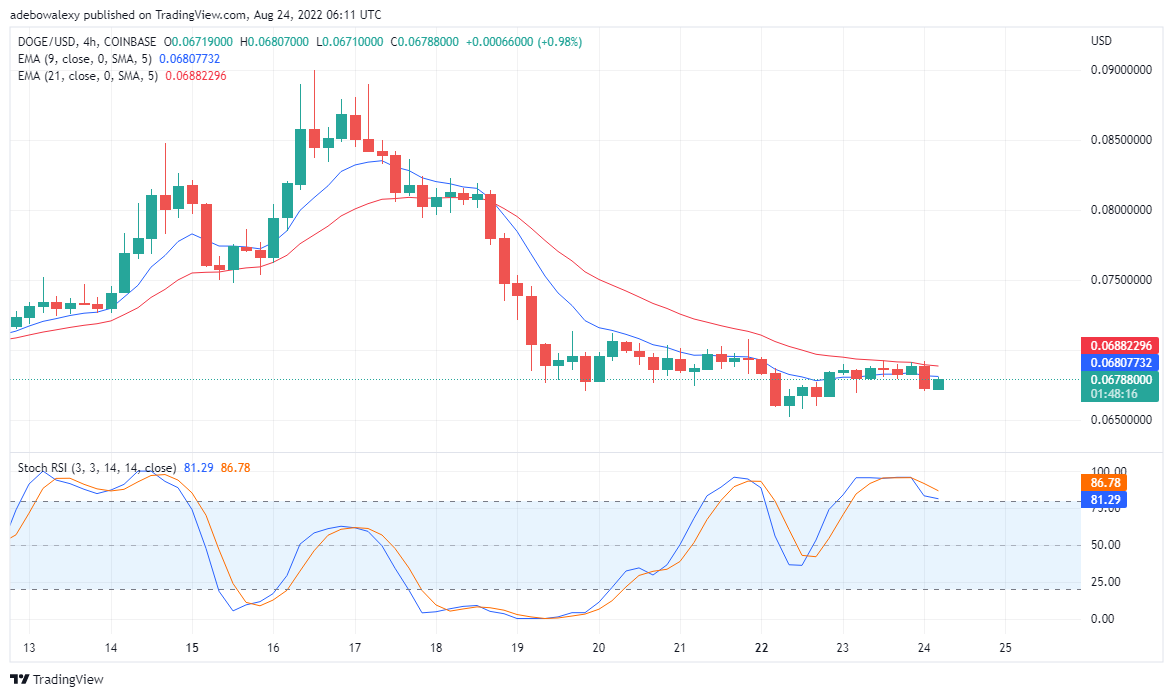 Dogecoin Value Analysis: DOGE/USD May only Claim Minimal Profits
Considering the DOGE/USD 4 -hours chart, we perceive that the last candle here is bullish. Consequently, this may be showing that the price of Dogecoin may experience some minimal gain. Furthermore, the effect of buyers is what we are witnessing in this much smaller time frame.

Your capital is at risk.
Another sign backing the mentioned minimal gain is the one from the SRSI indicator. On this Indicator, we can see that curves here have reached the highly sold region. Furthermore, this curve attempted to indicate a downward, as these lines are facing downwards. However, it can be perceived that the faster line seems to be correcting toward the slower one. This might be indicating a possible upside correction. This may eventually lead to Dogecoin's price reaching around $0.06900, which is still just a minimal gain.
To contribute to the Tamadoge fundraise, interested parties will need to connect with their crypto wallets, such as MetaMask or Trust Wallet, at buy.tamadoge.io. The TAMA token can be bought with USDT or ETH. Tamadoge runs on the Ethereum blockchain, the No.1 decentralised application computing platform.
Related
Tamadoge – Play to Earn Meme Coin
Earn TAMA in Battles With Doge Pets
Capped Supply of 2 Bn, Token Burn
NFT-Based Metaverse Game
Presale Live Now – tamadoge.io