Cryptos like Decred are finding themselves in top crypto lists. At the same time, the much talked about crypto, Shiba Inu is gaining popularity again through its noble mission to rescue real Shiba Inu dogs by organizing donation campaigns.
In the same way, Yearn finance is a great platform for investors just at the amateur stage of their investment. Cryptocurrencies with different objectives are gaining attention and investment in today's market.
We will now look at the top 5 crypto gainers:
Top 5 Crypto Gainers according to CoinMarketCap
1. Decred (DCR)
Decred is a platform that relies on the decentralised nature of blockchain technology in order to prevent monopolies over voting rights within the project. The Decred protocol's major objective is to guarantee that all DCR holders have an equal say in decisions and that powerful institutions cannot influence the outcome in their favour.
Decred makes guarantee that those who have enough DCR will be able to take part in votes affecting the company's future and operations by implementing ticket-holder voting. Additionally, Decred developed Politeia, a specialised voting platform that enables users to cast ballots, submit ideas, and initiate discussions.
Decred is now trading at $34.27, with a 24-hour trading volume of $31M. In the last 24 hours, it has gained 18.54 percent. Its live market cap is $488M. It has a circulating supply of 14M DCR coins, with a maximum supply of 21M DCR coins.
Your Capital is at Risk.
2. Shiba Inu (SHIB)
Shiba Inu is an Ethereum-based cryptocurrency substitute for Bitcoin. Its logo is a Japanese hunting dog breed called the Shiba Inu. Shiba Inu is commonly referred to as an alternative to Dogecoin. Even its fans call it "the Dogecoin killer."
Shiba Inu and Dogecoin are examples of meme coins as they are digital currency associated with a particular theme. Shiba Inu and Dogecoin are two examples of digital products that are usually offered as inside jokes or parodies rather than as reliable cryptocurrencies.
While Dogecoin was introduced in December 2013, Ryoshi, a pseudonymous person or organisation, introduced Shiba Inu in August 2020. In order to raise money for the Shiba Inu Rescue Association's live Shiba Inu dogs, SHIBA INU has also set up a fundraising campaign on Amazon Smile.
Shiba Inu is now trading at $0.00001, with a 24-hour trading volume of $742M. In the last 24 hours, it has gained 9 percent. Its live market cap is $7.7B. It has a circulating supply of 589 Trillion SHIB coins. The maximum supply is not available.
Your Capital is at Risk.
3. Ethereum Classic (ETC)
The Ethereum network developed the blockchain technology known as Ethereum Classic. The objective of Ethereum Classic is to maintain the original Ethereum blockchain technology. The Ethereum coin used to carry out smart contracts is called ETC.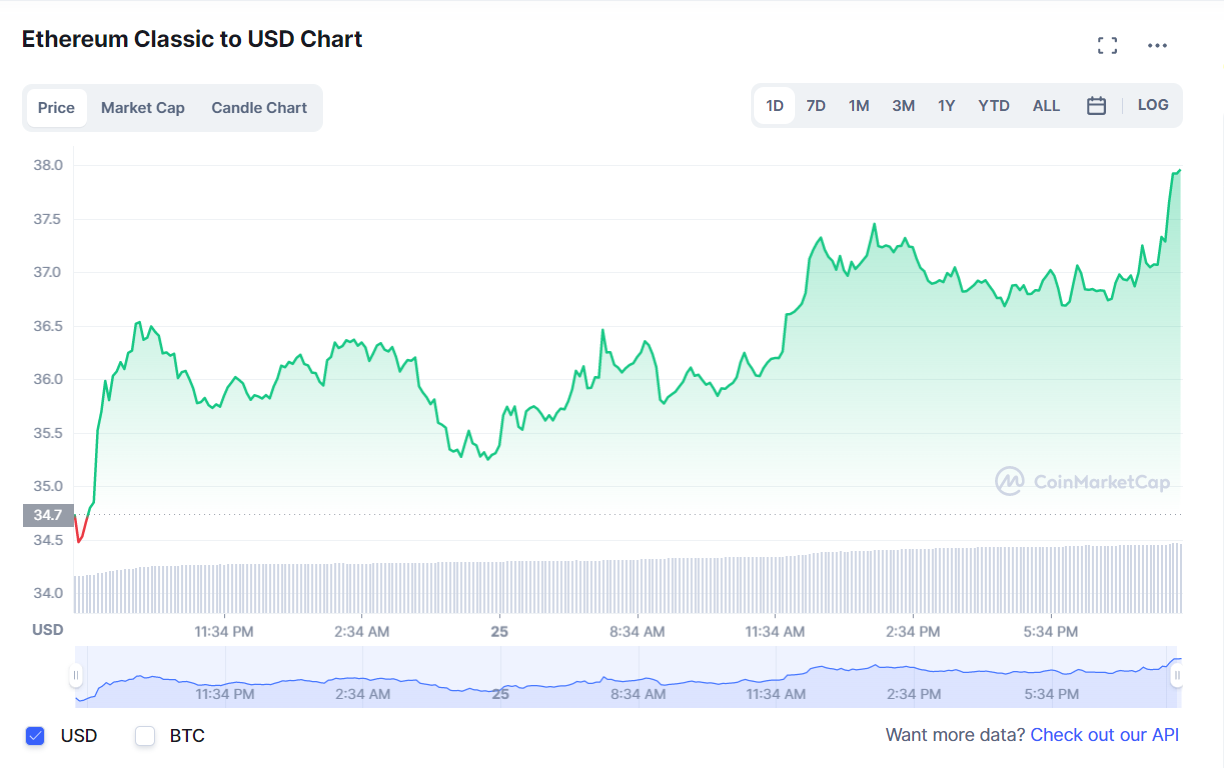 Its primary function is to serve as a platform comparable to the smart contract network, with the ability to host and support several decentralised applications (DApps).
Ethereum Classic is now trading at $36.79, with a 24-hour trading volume of $1.4B. In the last 24 hours, it has gained 8.82 percent. Its live market cap is $5B. It has a circulating supply of 136M ETH coins with a maximum limit of 210.7M ETH tokens.
Your Capital is at Risk.
4. Yearn Finance (YFI)
Yearn finance is decentralised finance (DeFi) investor aggregator service. It employs automation to let investors maximise their yield farming profits. Its goal is to simplify the continuously expanding DeFi market for investors who lack technical expertise or prefer informal interactions with skilled traders.
The service, originally known as iEarn, was introduced in February 2020. In recent months, more goods have been introduced, and developers have provided their own proprietary token, YFI. For the larger investor sector, Yearn.finance aimed to make DeFi investing and related activities, including yield farming, simpler.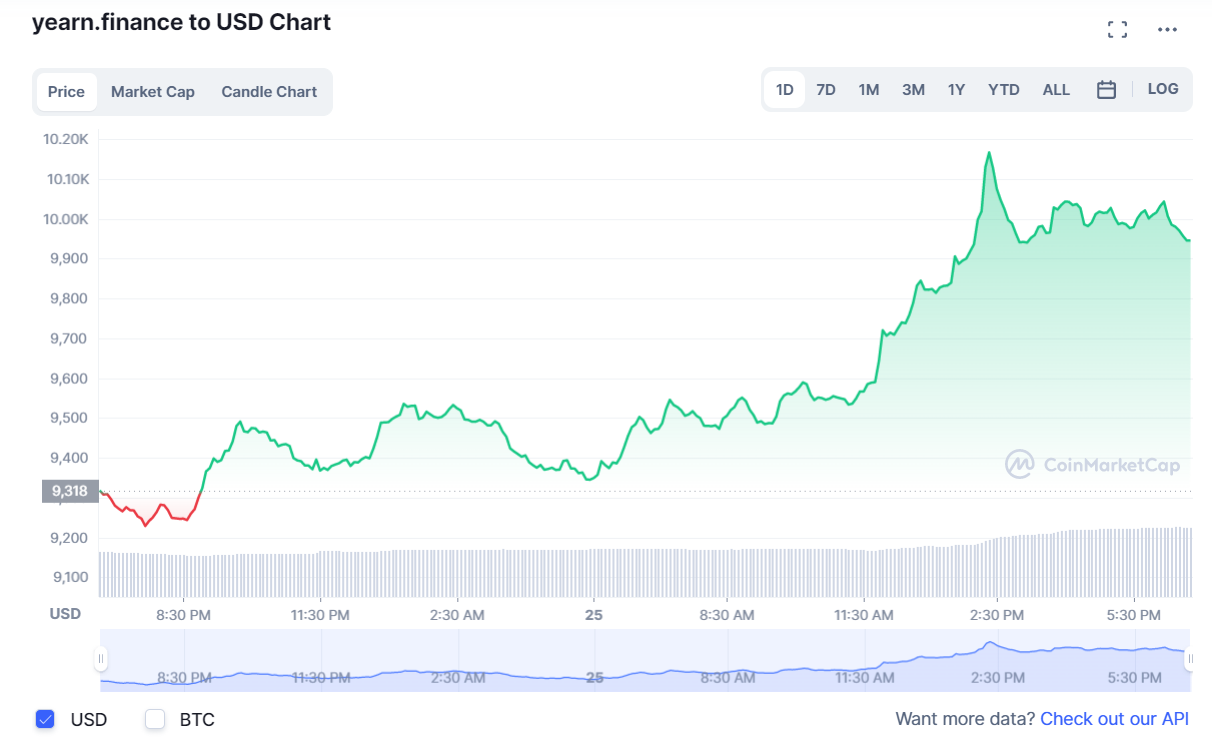 The platform uses a variety of customised technologies to operate as an aggregator for DeFi protocols including Curve, Compound, and Aave, providing cryptocurrency holders with the maximum potential returns.
Yearn Finance is now trading at $9,928, with a 24-hour trading volume of $77M. In the last 24 hours, it has gained 6.59 percent. Its live market cap is $347M. It has a circulating supply of 36KYFI coins with a maximum limit of 36K YFI tokens.
Your Capital is at Risk.
5. Ankr (ANKR)
Ankr is a decentralised blockchain infrastructure provider with over 50 Proof-of-Stake networks operating a variety of nodes internationally. This infrastructure powers a comprehensive array of multi-chain capabilities for Web3 users while also contributing to the expansion of the cryptocurrency economy:
It offers complete blockchain developer solutions, such as conventional APIs, a decentralised multi-chain network of open RPC nodes for executing code and gaining access to blockchain data, and tools like Ankr Scan for seeing on-chain data across blockchains.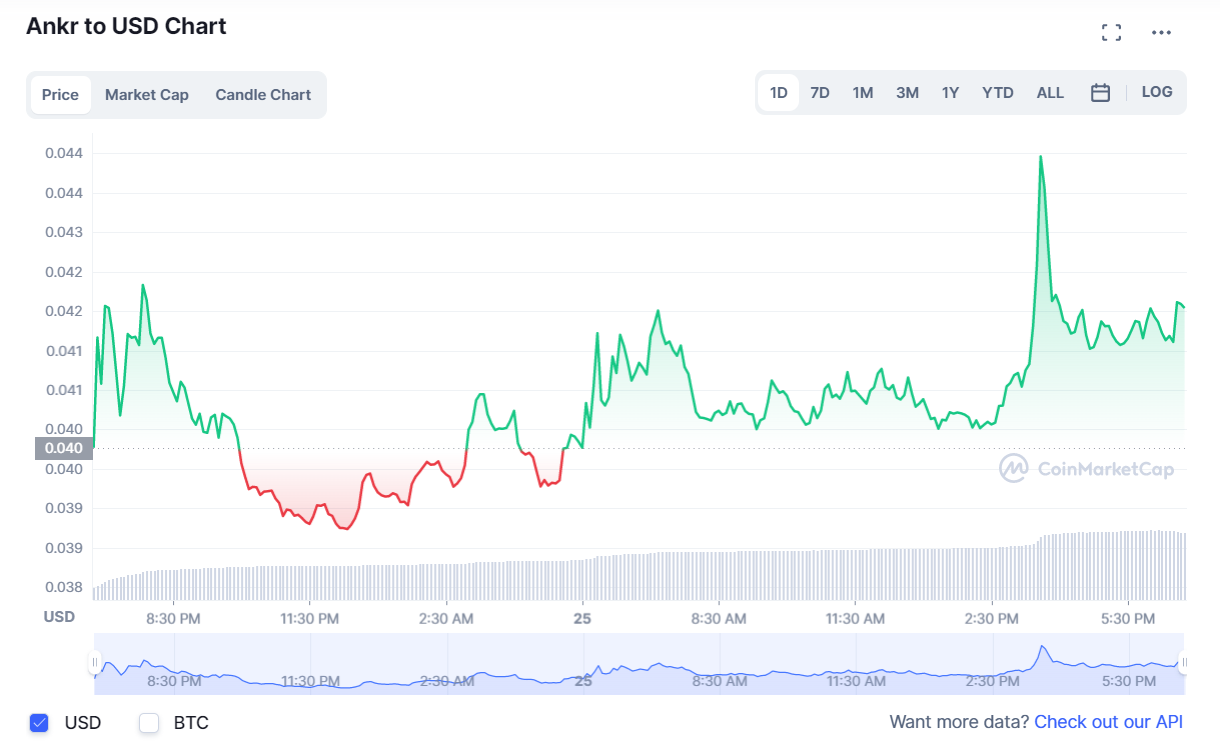 For every cryptocurrency investor, it makes staking, liquid staking, and other yield-earning options simple and available. In order to address the capital inefficiencies of Proof-of-Stake networks and related blockchain consensus processes, Ankr has developed the most scalable and decentralised staking infrastructure solution.
Ankr is now trading at $0.04, with a 24-hour trading volume of $256M. In the last 24 hours, it has gained 5.01 percent.  Its live market cap is $406M. It has a circulating supply of 9 Billion ANKR coins with a maximum limit of 10 Billion ANKR tokens.
Your Capital is at Risk.
Where to Buy the Top Cryptos?
The latest and most comprehensive selection of cryptocurrencies are available for investment on online platforms for cryptocurrencies like BitStamp, eToro, etc.
eToro
eToro includes all the main cryptocurrencies available on the market right now. The minimum trade size for the top Cryptocurrency currencies we've examined on this page is merely $10.
You don't need to be concerned about the safety of your money because eToro is both SEC-approved and FINRA-registered. Numerous other digital currencies are available, along with hundreds of different stocks and ETFs.
Why eToro is Better:
You may invest in any portfolio tailored specifically for cryptocurrencies and maintained by the eToro staff.
The eToro team's managed cryptocurrency portfolios are all available for investment.
All you need to start using eToro is a $10 investment.
Your Capital is at Risk.
Where to Get the Best Gainer Crypto Information?
For new users, navigating the worlds of Bitcoin, blockchain, and cryptocurrencies may be challenging and complicated. eToro, Coinbase and specially CoinMarketCap are available to assist.
They have gathered data from cryptocurrency exchanges across the world, and, using that knowledge, they have created a simple guide to assist you in picking the best cryptocurrency exchange so you may finally purchase your first coin.
There are hundreds of crypto assets available online, the majority of individuals start with one of the most popular coins, such Bitcoin, Ethereum, Bitcoin Cash, or Ripple, but at the same time, one might also end up investing in highly very illegible, risky, and speculative commodities.
You must wisely choose which crypto to invest in keeping in mind the fluctuating crypto market.
Read More
Tamadoge – Play to Earn Meme Coin
Earn TAMA in Battles With Doge Pets
Capped Supply of 2 Bn, Token Burn
NFT-Based Metaverse Game
Presale Live Now – tamadoge.io