With the rise of NFTs, more retail companies are diving into Web3 with novel releases, digital experiences, and cross-partnerships. And fashion is no exception. In fact, it seems to be leading the way for brands with traditional commerce background.
Between fashion houses with centuries of legacy like Louis Vuitton, Gucci, and Prada to lifestyle brands like Adidas Originals, Nike, and The Hundreds, there's no shortage of excitement on NFTs.
As Lorenzo Riva, contributor to the Cristóbal Balenciaga: To the Moon NFT collection and former artistic director at the luxury brand, told Rarible Blog: "…the future of fashion-brand NFT projects is open to those who dare to turn dreams into reality".
If you're passionate about fashion and NFTs, it seems to be a great time to build or invest in your digital collection. Wondering which ones to add? Here are some of the most notable fashion NFT drops we've seen so far, most of which you can shop through Rarible:
Gucci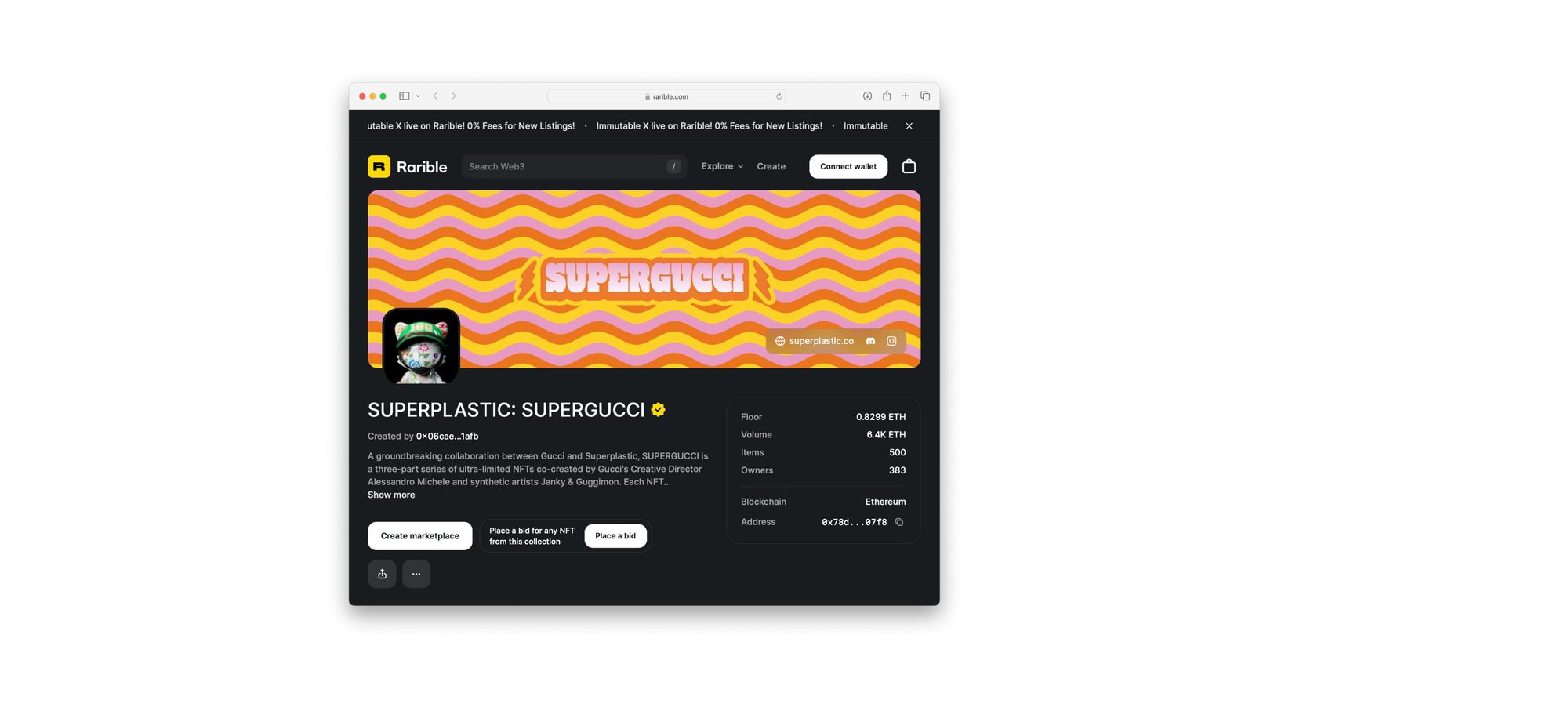 With stores accepting $APE along other popular cryptocurrencies as a payment option, Gucci seems to be pioneering Web3 adoption in the luxury fashion space.
Gucci's Web3 journey could be tracked all the way back to September 2021, when the brand announced Gucci Vault, its 'experimental online space' that references NFTs and metaverse in its FAQ section and has an associated Discord channel.
In early February 2022, Gucci partnered with Superplastic, a company producing limited edition toys, apparel and digital collectibles, to combine NFTs with physical items. The resulting NFT drop SUPERGUCCI, co-created by Gucci's Creative Director Alessandro Michele and synthetic artists Janky & Guggimon, was sold via Gucci Vault. In the phygital spirit of the collection, each SUPERGUCCI NFT owner received a ceramic sculpture handmade in Italy to accompany their digital piece.
In May, Gucci continued its foray into Web3 by releasing a four-minute film Aria as an NFT that sold for $25,000 via Christie's. Co-directed by Alessandro Michele and Floria Sigismondi, the video, which accompanied a runway show, nodded to themes of renewal, growth, and hope for the future and featured many layers of Gucci's legacy.
Gucci's next adventure, Gucci Garden, showed the brand's intention to tap into the metaverse trend. The two-week event hosted by Roblox enabled attendees to walk through virtual gardens, purchase avatar accessories at Gucci Shop, and visit Vault Plaza—an experimental concept store that showcases their latest products. There, a digital Gucci Dionysus sold for more than the physical version of the bag ($4115 vs. $3400).
The success of that release led to Gucci Town, a more permanent world on Roblox. Inside, Gucci fans can dip into virtual styles and connect with others in a central community.
Most recently, Gucci was collaborating with the digital art marketplace SuperRare to launch NFT artworks Vault Art Space. Totalling 29 artists, the first cryptoart exhibition and auction The Next 100 Years of Gucci extends the storyline Alessandro Michele has set in motion for the House to ever-diverse perspectives.
Nike and RTFKT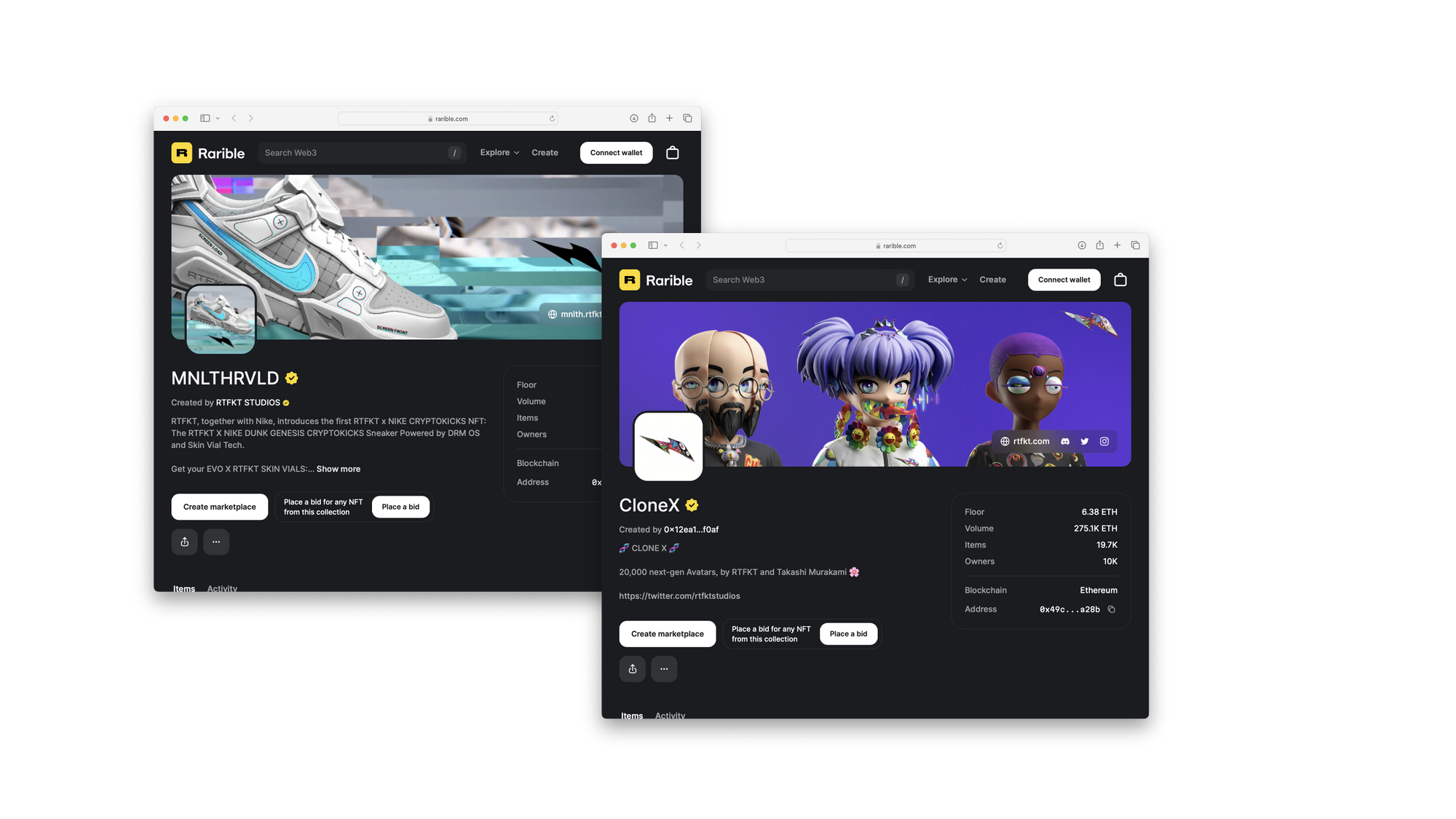 Nike produces some of the most sought-after sneakers and other fashion icons. And they're not squandering their lead in the metaverse: In December 2021, the lifestyle giant acquired RTFKT—a web3 fashion studio creating next-generation collectibles that merge culture and gaming for the metaverse. According to Nike CEO John Donahoe, the acquisition "allows the company to serve creators at the 'intersection of sport, creativity, gaming, and culture."
But before you buy any metaverse fashion, you need an avatar to walk around with. That's why RTFKT launched the CloneX collection before any Nike NFTs made their way into people's wallets.
Their first pair of digital sneakers called RTFKT x NIKE CRYPTOKICKS (aka MNLTHVreleased in April, making an inaugural entrance to the virtual wearable space. Recently, the brand also released the AR Genesis Hoodie, an exclusive digital collectible for RTFKT's Clone X NFT avatars. Along with a Nike hoodie for the metaverse, NFT holders receive a physical hoodie equipped with an NFC chip, which triggers virtual effects in AR using a combination of trackers and QR codes.
RTFKT founder Benoit Pagotto is excited to collaborate with the global brand: "This is a unique opportunity to build the RTFKT brand, and we are excited to benefit from Nike's foundational strength and expertise to build the communities we love," he said.
Adidas Originals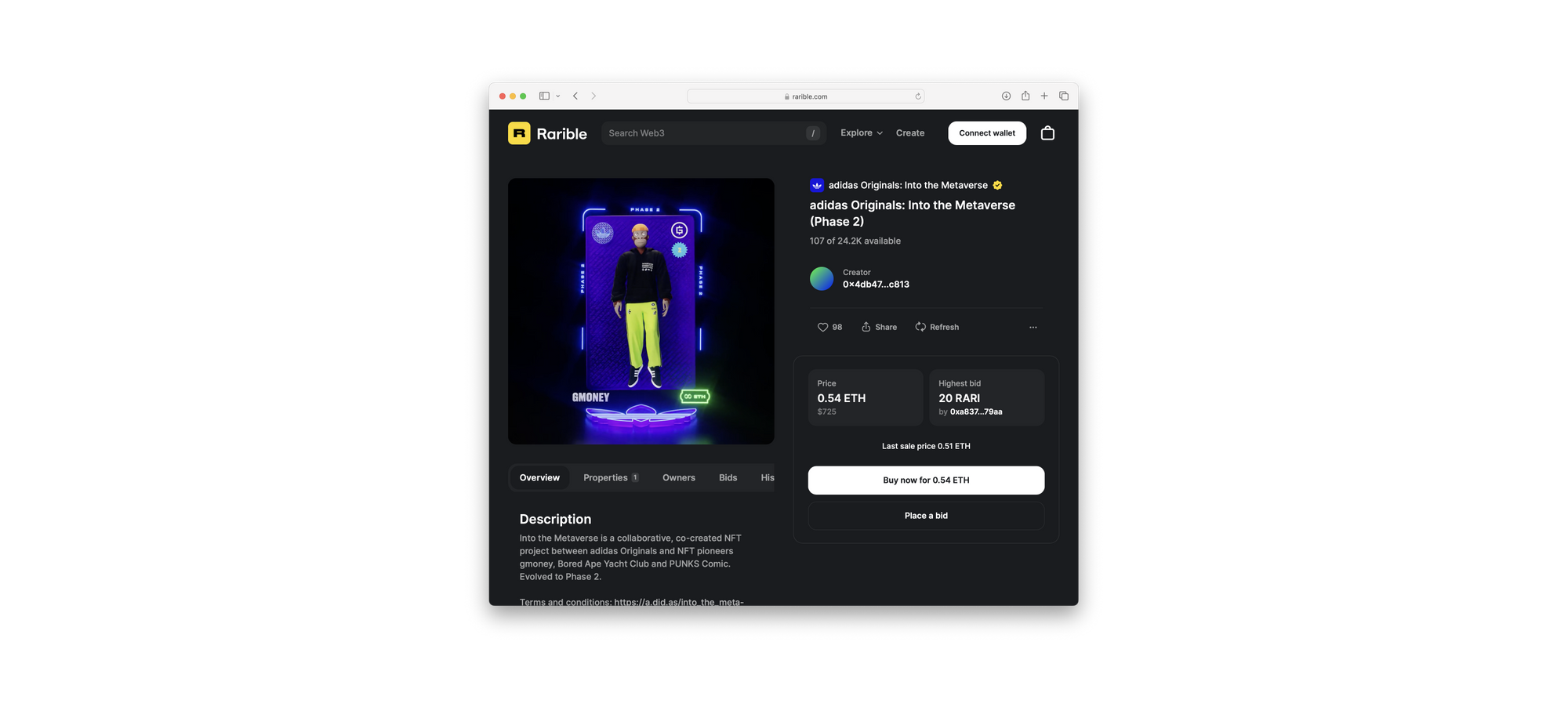 Last December, Adidas Originals made waves in the Web3 industry when it partnered with Bored Ape Yacht Club, PUNKS Comic, and gmoney to launch Into the Metaverse NFTs. The collection featured digital wearables that unlock passes to virtual land experiences and merchandise in the metaverse The Sandbox. It also enabled holders to claim exclusive physical merchandise featuring the adicolor Firebird tracksuit, a PUNKS Comic graphic hoodie, and gmoney's iconic orange beanie.
VP of Marketing and Communications at Adidas Originals, Erika Wykes-Sneyd commented for Rarible Blog, "This isn't a one-off drop, this really is going to be a chance for members to co-own a stake with Adidas Originals… What's so important though in this first step is that we establish the shared values and what it is that we care about."
Indeed, there's more: Adidas also has a vibrant Discord community and collaborated with Prada on the Re-Source drop, which featured creator-owned NFTs.
The Hundreds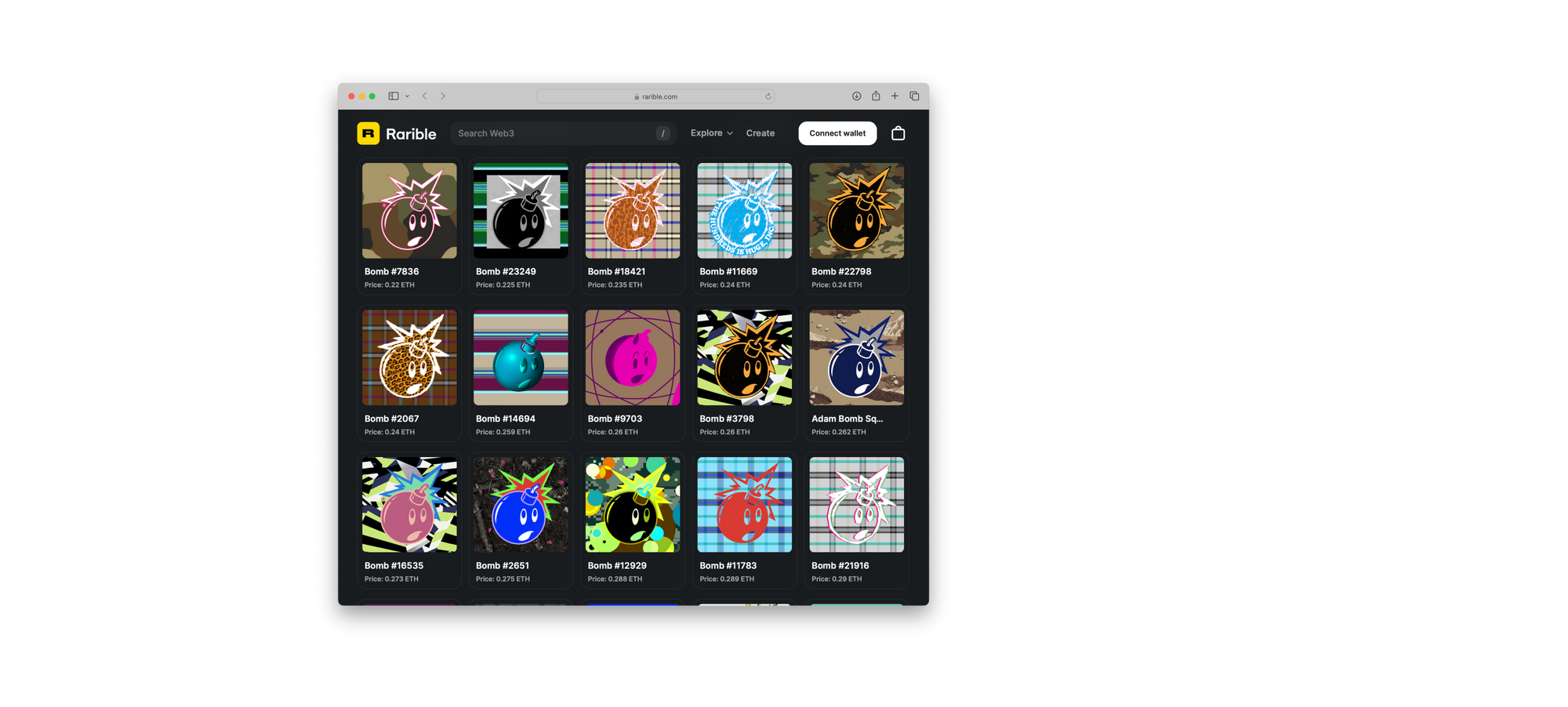 As an OG streetwear brand, The Hundreds has long been on the forefront of pop culture, design and art.
And any label as familiar with popular culture as The Hundreds certainly knows NFTs.
In fact, The Hundreds was one of the first streetwear brands to launch their own community-driven NFT collection: Adam Bomb Squad.
The brand promises holders access to an exclusive community, fashion drops, early access to new collections, among other benefits.
When asked to describe what the Adam Bom Squad community is like, Curvy, its "Bombassador", told us: "Everybody just helps each other out, we're constantly talking in there, it's super active."
To Curvy, the future for fashion brands is in metaverse clothing: "As the Oculus gets more accessible […] you can express yourself like in a normal video game through your skins and your clothing, that could be a huge market."
Puma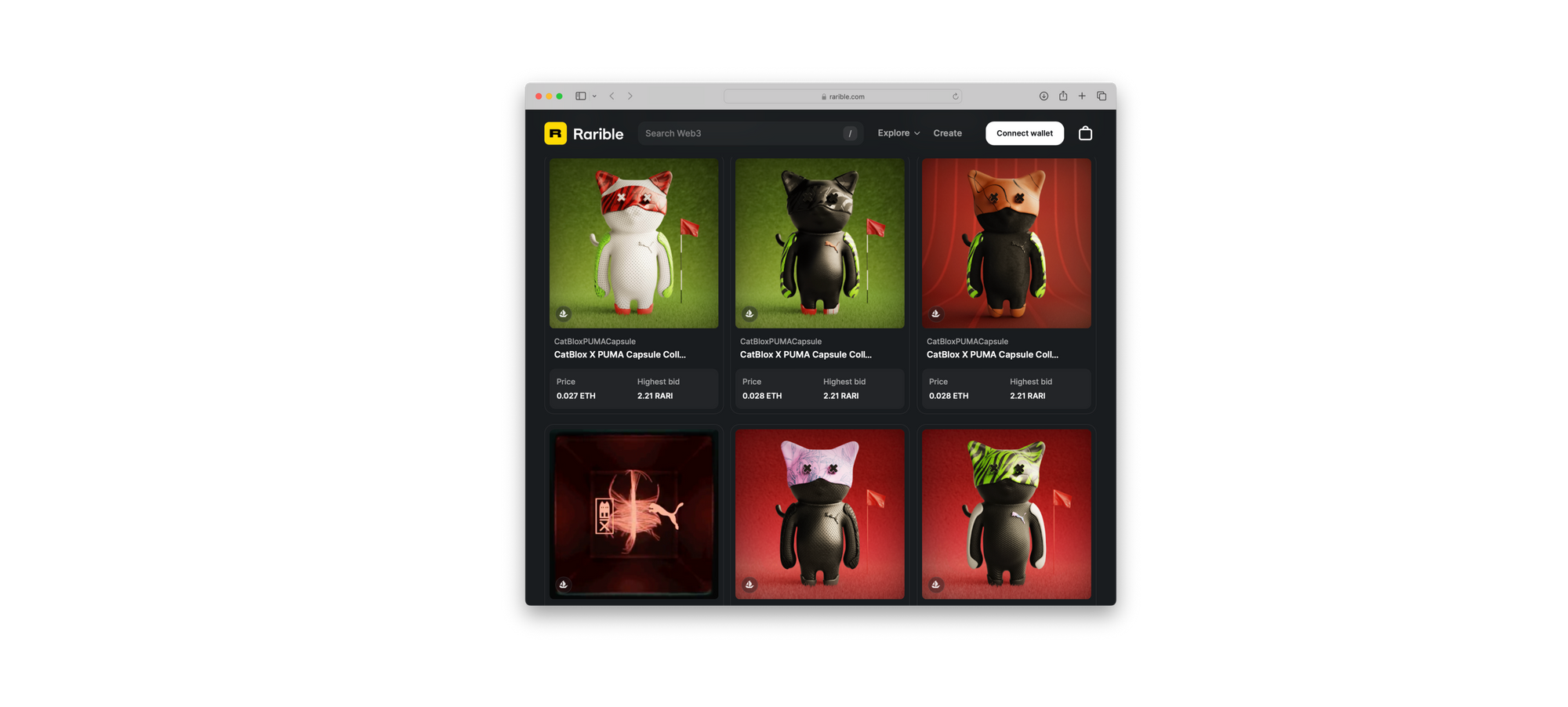 There's a pattern: Some of the most prolific fashion companies in the NFT space are sneaker brands. That's not surprising, given how sneakers have been dominating the pop culture.
Puma's foray into NFTs started simple: The brand changed its Twitter handle to puma.eth. But that was only the first step.
Soon after, Puma started their NFT collection. Staying true to their brand, the company acquired cat-themed NFTs, including a Cool Cat, a Lazy Lion and a Gutter Cat.
But Puma didn't stop at collecting NFTs:
In June 2022, the brand launched a collaboration with 10ktf.
A partnership with Catblox gave Catblox genesis holders access to metaverse wearables and unique events.
The Puma Nitro Token launched in August 2022 lets buyers claim a "Nitropass" which allows them redeem a physical Puma item.
Pushing the boundaries
If you love fashion, the metaverse is another medium for personal expression and brand allegiance. Exclusive events, physical matching clothing, and personal communities are just a few of many benefits that accompany NFT ownership these days.
Some branded luxury goods go up in value while others just make life more enjoyable—now that applies not only for physical goods, but also for coveted one-of-a-kind digital pieces. For those that live in the intersection between fashion and technology, there's a new wave of exclusivity and artistic articulation that may take more forms as the Web3 space continues to rapidly evolve.