New tokens listed on many exchanges are user centric. The new projects are not created for the sake of it but rather to solve the problems that crypto users are facing in the space. A lot of resources and innovation are deployed to this problem-solving venture. It is expedient for investors to discover these platforms and utilise them for their merits. Nevertheless, only some new tokens become successful, regardless of the technology they deploy or the goal they hope to actualise.
Consequently, the need to provide information-laden guides for investors has become crucial hence the need for this article. Today's list of new cryptocurrency releases, listings & presales features new digital assets that are community-driven and user-centric. Find the details of these assets in this article.
New Cryptocurrency Releases, Listings & Presales Today
Unsurprisingly, Artificial Intelligence and Bots have found their way into decentralised finance. DeFi is an avalanche rolling over centralised platforms. Obviously, technology will be employed to revolutionise the system. Our new coin listing highlights assets where technology shakes hands with user-friendly projects. Moreover, the new tokens listed in this article appeared on CoinMarketCap within the last 24 hours, at least a week at most, even though other cryptocurrency exchanges may have listed the new coins prior. 
1. BlockGPT (BGPT)
BlockGPT is a collection of tools stimulated by Artificial Intelligence. This set of tools is designed for cryptocurrency traders of different cadres, amateurs and professionals alike, investors of varying capabilities, and learners. It does not discriminate among crypto players. BlockGPT is essential because it makes most processes easier with certain automation. Deploying high-level machine learning, BlockGPT decrypts difficult protocols, identifies systems and simplifies decentralised finance. Apparently, it is a safe course for players navigating the crypto ecosystem. Read the CoinMarketCap description below. 
BlockGPT is a set of AI-powered tools for crypto traders, investors and learners. Its a window to all things crypto
Features
Real-Time Market Data Learn About Security Protocols deep dive Demistify DeFi Summarize crypto projects Develop secure contracts.
Today's live price for BlockGPT is $0.000597, with a 24-hour trading volume of $49,487.10. The maximum supply of BGPT summits at 1,000,000,000 coins. BlockGPT ranks #3480 on CoinMarketCap presently. The live market cap is unavailable, and the circulating supply is also unavailable.  
2. Crab Rave Token (#CRABS)
Crab Rave Token is an NFT platform threatening to take over the Web3 space. The recent wave of Non-Fungibles in the crypto ecosystem has made projects like Crab Rave Token a welcome development. The Crab Rave Token platform creates an infrastructure that adopts decentralised finance. NFTs can be minted, staked and traded on Crab Rave Token platforms. It is a portfolio-worthy token, especially because it puts users first.  
Crab Rave Token (#CRAB) is a groundbreaking initiative that has established itself as a trailblazer in the Web3 space. Recognizing the dynamic potential of decentralized finance (De-Fi) and the rapidly evolving NFT (Non-Fungible Token) landscape, Crab Rave Token is leading the charge with its state-of-the-art hybrid NFT Marketplace.
It's about creating a space that's both rewarding and fun, a place where people can monetize their creativity and investors can find unique digital assets.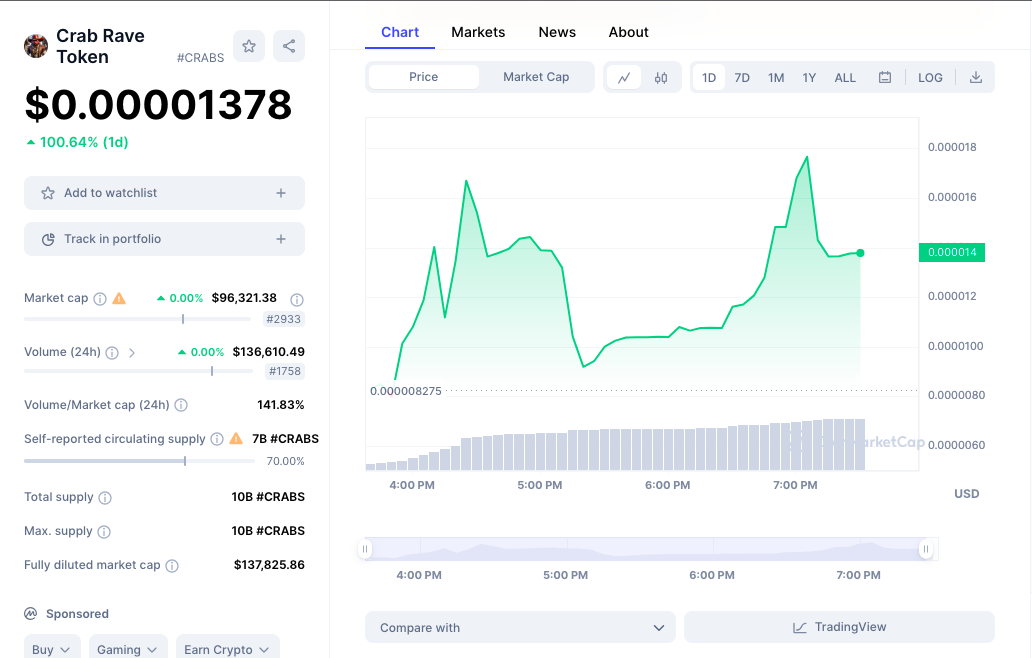 Our goal is to democratize access to DeFi and NFT opportunities and bring communities together under the fun, unified banner of Crab Rave Token. As we continue to grow and develop, we invite everyone to join us in our journey to push the boundaries of what's possible in the Web3 space.
Crab Rave Token is not just a token; it's a movement. It's a celebration of the endless possibilities that emerge when we break down the barriers between different communities and technologies. So come join us, let's rave with the crabs, and together, let's build the future of Web3.
Today's live price for Crab Rave Token is $0.000014, with a 24-hour trading volume of $136,610. The maximum supply of #CRABS summits at 10,000,000,000 tokens. Crab Rave Token ranks #2933 on CoinMarketCap presently. The live market cap is unavailable, and the circulating supply is also unavailable. 
3. POKAVZ (POKA)
POKAVZ is said to be the first game powered by Web3Games studios. A social gaming platform, POKAVZ invites players worldwide interested in earning rewards in an NFT game. The game played on the platform is the famous Texas Holdem cash game. CoinMarketCap describes the project best. 
What's POKAVZ?
POKAVZ is a social gaming platform for Texas Holdem lovers and Play-to-Earn NFT game, combining the token incentive, NFTs and the most popular Texas Holdem cash game into one. Also, it's the first blockchain game launched by Web3Games Studios.
Players start playing with PASS NFTs, complete missions, collect mascots, upgrade VIP PASS NFTs, and compete against each other on the daily leaderboard to earn rewards.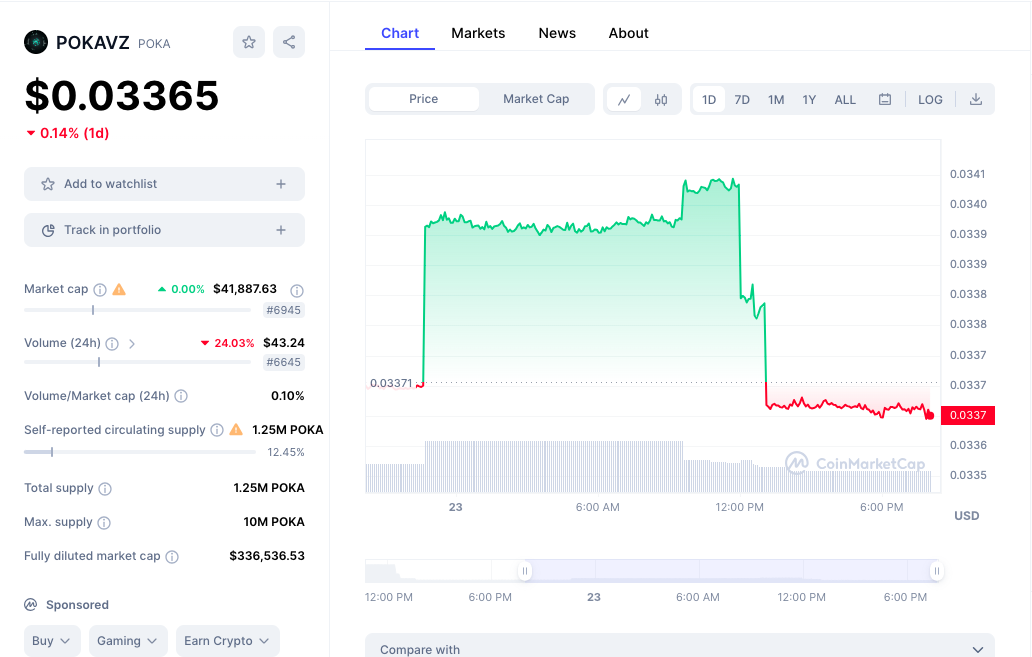 What is $POKA?
— The POKAVZ x W3POKER Governance Token on Polygon chain with a total supply of 10,000,000.
Name: POKAVZ x W3POKER Token (POKA) Chain: Polygon Total Supply (Max): 10,000,000 POKA
The POKAVZ x W3POKER token (POKA) is the native fungible token of POKAVZ x W3POKER ecosystem, aimed at revolutionizing the gaming experience and creating economic incentives for participants.
Today's live price for POKAVZ is $0.033645, with a 24-hour trading volume of $43.24. The maximum supply of POKA summits at 10,000,000 coins. POKAVZ ranks #6945 on CoinMarketCap presently. The live market cap is unavailable, and the circulating supply is also unavailable. 
4. NeoBot (NEOBOT)
NeoBot is a Telegram-based bot for traders and investors. The bot is useful for analysing crypto data; it provides information on the major holders of a coin and demystifies details on a digital asset. Investors can gain knowledge of the prospect of a token by finding out the holding tips on that token with NeoBot. Read more on the project through the CoinMarketCap description below.  
What is the project about? NEO Bot is a telegram bot that has a suite of products including contract auditor, rug scanner, token scanner, chart function and unrealized PNL of holders.
What makes your project unique? NEO bot tools include:
-Analyze: gives information on the earliest buyers of the requested token with a graphical representation
-Holders: gives information on the top 20 holders of a token, including their PNL and their amount of buys, sells and transfers.
-Token Scan: which includes social information, security information, liquidity information, marketcap, volume, holders and deployer information
-Deployer scan: gives information on the deployer of the token, tokens held and the market value of the tokens held
-Token search: this allows you to search for any tokens matching the query, it will return the address, chart and FDV
-Chart function: returns an image of the chart of the requested token
-Volume scan: gives extra details on volume profile and how the price reacted to this information
Rug scan: gives security information on the token, including max txn, liquidity details, tax, honeypot details
-Find: gives information on the tokens held by the top holders of one or more tokens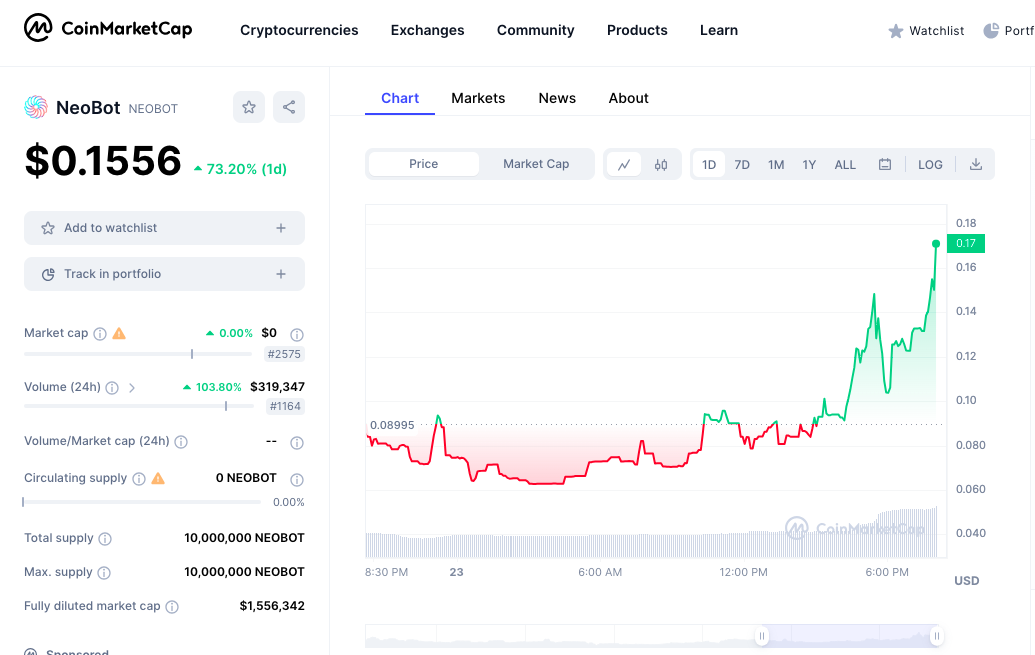 History of your project. NEO Bot has been under development for the last 3 months by founder and developer 0xSleuth, what started as a simple token scanner eveloved to become a suite of tools to help traders understand the information on Blockchain.
What's next for your project? Adding more tools and improving users experience using our bot to make well informed decisions for their investments.
What can your token be used for?
NEOBOT is the native utility token that is used to gain access to tools on telegram.
Today's live price for NeoBot is $0.155634, with a 24-hour trading volume of $319,347. The maximum supply of NEOBOT summits at 10,000,000 coins. NeoBot ranks #2575 on CoinMarketCap currently. The live market cap is unavailable, and the circulating supply is also unavailable. NeoBot is up 73.20%.
Read More
Wall Street Memes – Next Big Crypto
Early Access Presale Live Now
Established Community of Stocks & Crypto Traders
Featured on BeInCrypto, Bitcoinist, Yahoo Finance
Rated Best Crypto to Buy Now In Meme Coin Sector
Team Behind OpenSea NFT Collection – Wall St Bulls
Tweets Replied to by Elon Musk